Pushing technology boundaries
The
Industry-Leading

  Web Accessibility Technology

accessiBe is a game-changer in web accessibility, making the entire process to compliance automatic and immediate using machine learning and computer vision technologies.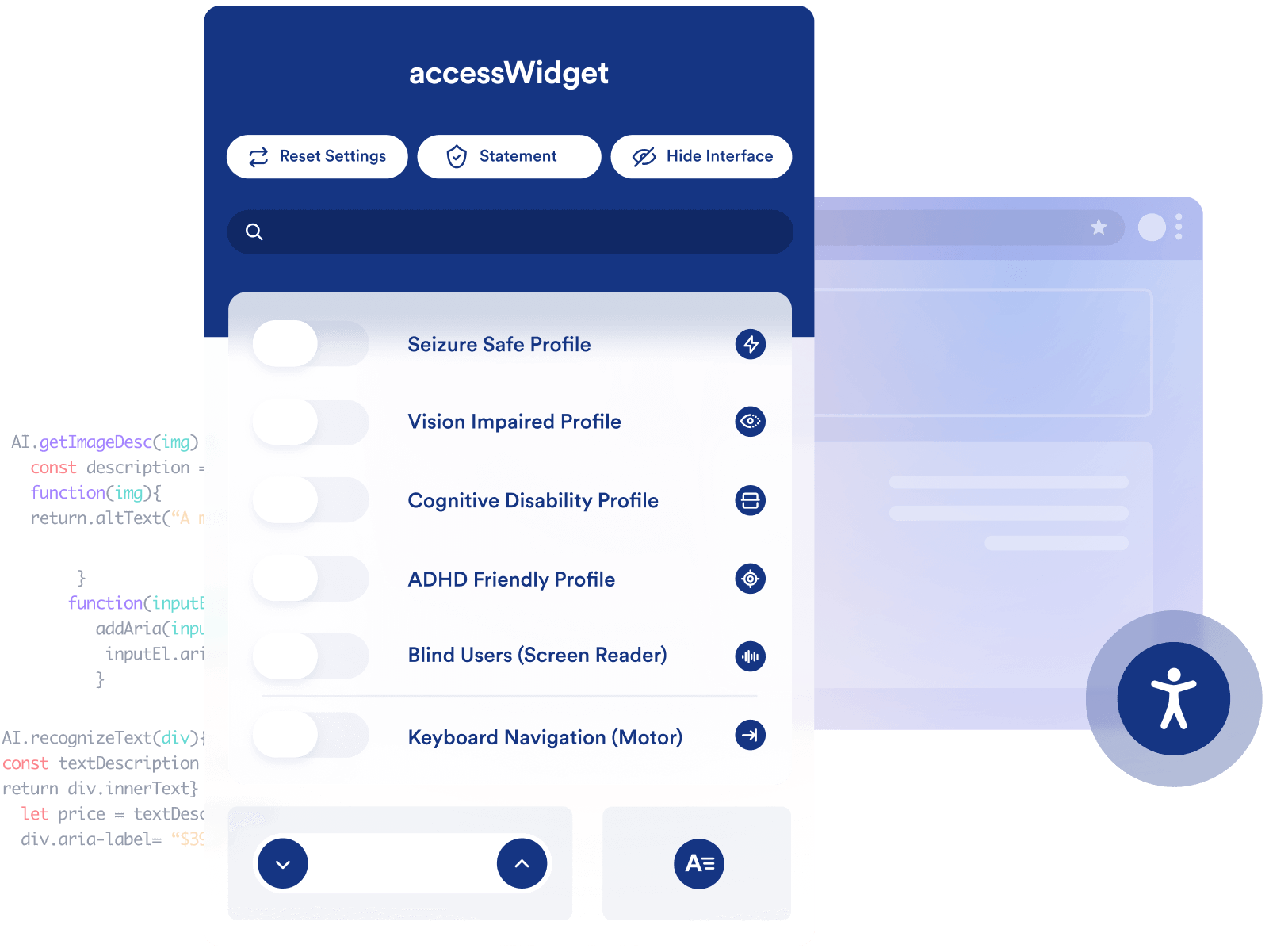 Lines of Code

Data Blocks

Partners

Websites

Daily Loads

Daily Processes
Everything you need to know
Here's how
accessiBe

  works

accessiBe utilizes two applications that together achieve full compliance. The accessibility interface is responsible for all the UI and design-related adjustments, while the AI-powered background process handles the more complex requirements - optimization for screen-readers and for keyboard navigation.
Watch the 3-minute quick demo

Watch the 9-minute elaborate demo
Foreground Application
The Accessibility
Interface

 

accessiBe's interface is a session-based design and UI adjustment tool that makes accessibility modifications based on a user's individual needs. All adjustments are compliant with WCAG 2.1 AA & AAA requirements.
Content Adjustments

Color & Display Adjustments

Navigation Adjustments
Interface Page
Background Application
AI

 -Powered Processes

accessiBe's AI machine learning technology uses contextual understanding and computer vision to address the complex, back-end requirements needed for screen reader and keyboard navigation adjustments.
Screen-Reader Adjustments

Keyboard Navigation Adjustments

24/7 Maintenance
AI Page
AI-Powered web accessiblity
The
effortless

  process of
becoming compliant with us
WCAG 2.1

ADA Title III

Section 508

EAA/EN 301549
1

Paste a single line of JavaScript code on your website

2

The accessibility interface instantly appears on your website

3

accessiBe's AI starts scanning and analyzing your website

4

In up to 48 hours, your website is accessible and compliant

5

Every 24 hours, the AI scans for new and revised content to fix
Your new potential clients
Disabilities that
accessiBe

  covers

accessiBe enables website owners to serve users with a wide array of disabilities all in adherence to the WCAG 2.1 and worldwide legislation
Blind
Motor Impaired
Cognitive Disorder
Epileptics
Vision Impaired
Hearing Impaired
Web accessibility for blind users
Screen-reader

  optimization for blind users

Blind users use screen readers to read out loud what is on the screen but most websites lack alternative text for images, and ARIA attributes for context and behavior-related adjustments that screen-readers rely on.
How accessiBe overcomes the challenge
I've heard about you guys in the past, I've used some of your websites, there are competitors out there. The websites I've checked out that your platform works on are accessible to me. Frankly, that is the first thing that came up when I searched for a partner. I saw no flaws and I thought I'd reach out. Dr. Hoby Wedler
accessiBe uses machine learning to scan, analyze, and interpret every element on the page the same way sighted users do. Then, it uses ARIA attributes and various behavior adjustments to provide full context to screen readers. This allows blind users to navigate and browse through sites accurately.

Dropdown menus, forms, pop-ups, icons, and buttons are all included in the process. Additionally, it uses computer vision to provide accurate descriptions for images.
Web accessibility for the motor impaired
Keyboard-navigation

  optimization for the motor impaired

When it comes to websites, physical and motor impairments are defined by the inability to use a mouse. Luckily, a keyboard can do everything a mouse can do and more.

Unfortunately, most websites are not optimized for keyboard navigation, leaving people with motor impairments excluded from certain website elements.
How accessiBe overcomes the challenge
I have been searching for a website accessibility solution to eliminate legal risks and, most importantly, to make your website truly accessible. After testing accessiBe myself, I knew I found the answer. Nathan Yates
accessiBe makes websites completely navigable by keyboard. This is accomplished with our contextual understanding AI engine that makes the necessary adjustments throughout the website's code. People with motor impairments can use the keys to do everything from closing popups and forms to opening drop downs and menus.
Web accessibility for cognitive disorders
Comprehension

 

adjustments

  for people with cognitive disorders

People with cognitive impairments have certain limitations in mental functionalities that can affect the way in which website content is perceived and understood. For example, slang and abbreviations can be very confusing for people with cognitive disabilities.

Without the proper context or orientation adjustments, the context may be misunderstood and lead to incorrect actions.
How accessiBe overcomes the challenge
In terms of being autistic, there are 5 key features with accessiBe that really help me. The first one is highlight titles, the second highlight links, the third is text magnifier, the fourth is hide images, and the fifth highlight focus. Callum Gamble
In order for people with cognitive disabilities to gain proper context of a website's content and elements, accessiBe's accessibility interface includes a built-in dictionary for quick definitions and references.

For orientation and focus-related needs, the interface allows users to activate adjustments that highlight important links and elements. In addition, the 'Cognitive Disabilities' Profile can be chosen to activate all of these adjustments simultaneously.
Seizure-safe adjustments for epileptic users
Stopping

  flashing

animations

  to prevent epileptic seizures

The Internet is filled with blinking and flashing animations and GIFs that are dangerous for people with photo-sensitive epilepsy. Many of these users will avoid pages and content for fear of triggering a seizure.
How accessiBe overcomes the challenge
It's really exciting to see the scope of what accessiBe offers, both from the perspective of someone with additional needs and as an advocate for disability. Knowing that the internet is safer for Epileptics like myself is a great feeling and I can't wait to see how accessibility technology develops in the future. Susanna Fantoni
Within the accessibility interface, epileptic users can easily find a 'Seizure Safe' profile which will simultaneously freeze any and all flashing GIFs, animations, videos, or patterns that could trigger people with photo-sensitive epilepsy. Individual adjustments exist as well for singular modifications.

Black Friday and other promotional flashing banners are designed to grab our attention towards a sale or some piece of news. For epileptics, this is a health risk.
Web accessibility to the vision impaired
UI

  and

design

  adjustments for the vision impaired

Websites come in many shades, colors, and sizes. For people with visual impairments, the wrong color combination or font size/shape can make it hard for them to see your website's content. Common visual impairments include blurred vision, color blindness, and glaucoma.
How accessiBe overcomes the challenge
This really helps me because not being able to press a button because the size of the icon isn't large enough is probably the most frustrating thing ever. Becca Lefanowicz
With accessiBe's accessibility interface, users can adjust the design and UI of the site according to their specific needs. Adjustments include content adjustments such as scaling, sizing and spacing of text, color adjustments such as saturation and contrast, and orientation adjustments such as enlarged cursor and emphasized titles.

Users can change the scaling, sizing, and spacing of texts without losing content or usability, alter fonts and even change contrast and color combinations. Moreover, they can also enlarge the cursor, emphasizes titles and links, add mouse framing to elements, and much more.
Web accessibility for the hearing impaired
Closed captions for the hearing impaired
Website owners and marketers often prefer to deliver visuals in the form of video. While this is a great form of engagement, hearing-impaired users aren't able to understand what the video is about unless it incorporates closed captions.
How accessiBe overcomes the challenge
As a deaf person, I find every day to be a struggle to understand what is going on besides me. I welcome very much a simple and straightforward solution that can help our community understand web content better. Nathaniel Becks
accessiBe has a dedicated team who is an expert in providing not only closed captions for videos but also sign language interpreters. Captioning projects are provided on-demand and per video, and usually take a few days to turnaround.
Real-world impact
Developed
side-by-side

  with people with disabilities
accessiBe's first stable version took 18 months of daily development in collaboration with people with disabilities. That process still continues today. Blind people, motor and vision-impaired people, epileptics, and others are all a vital part of our research & development.
Developing accessiBe side-by-side with the people who are using it on a daily basis is the secret sauce to our success. Shir Ekerling, accessiBe CEO
Our Vision
Supporting you all the way
Get maximum protection with our
litigation

 

support

  package
Our Litigation Support Package is provided to our customers, at no extra cost, in the case that their website's compliance is challenged. Along with our personal attention, the package includes professional audits, reports, accessibility mapping, compliance supporting documentation, guidance, and more.
A client of ours got sued, despite good efforts. I found accessiBe almost immediately and signed them up to get them protected. Nicholas Woodward, Owner at YST Inc
Customer Testimonials
How does the competition compare?
accessiBe

  VS the

Competition

 
Without accessiBe, the process of web accessibility remediation is done manually. This takes weeks and costs tens of thousands of dollars. But what's most concerning about manual remediation is that once it's finished, it gradually gets ruined due to browser, CMS, and of course, website updates. Within months, a new project is needed.

Shelling out thousands of dollars multiple times a year is not something most businesses can afford. By making web accessibility effortless, affordable, and continuously maintained - accessiBe changes the game.
Between the combination of how powerful it was, what we were able to get from it, how quick it was to implement, and how competitively priced it is, it really became a no-brainer decision to go with accessiBe. Neil Steinhardt, President at ClassWallet
accessiBe VS the Competiton
They'll explain it best
See firsthand what our
customers

 ,

partners

  and

users

  have to say!

With so many happy customers, partners and users, accessiBe is the obvious choice. They'll love to explain why.

Watch Testimonials
Frequently asked
questions

 
Is accessiBe really powered by AI?

Absolutely! accessiBe uses two AI engines. The first, "Computer Vision", is used for analyzing and describing images, while the other, "Contextual understanding", is used for learning the purpose and functionality of elements.

Is accessiBe enough to enable users with disabilities to use my website?

Absolutely! accessiBe is being used by tens of thousands of users with disabilities on more than 5 million web sessions every single month!

Is accessiBe enough to keep safe from litigation?

Absolutely! accessiBe powers almost 100,000 websites in 5 different continents under many different legislations and we don't have a single customer who has lost a web accessibility claim. You are safe with us.

How long does it take from installation to becoming compliant?

accessiBe's AI-powered process takes up to 48 hours to complete from the initial installation and this is when your website is accessible and compliant. The longer accessiBe is on your site, the more accurate it is and the faster it is able to catch conte

Is there anything accessiBe does not address?

accessiBe does not create captions to videos nor remediate PDF or SVG formats as part of the standard subscription. If you need help with any of that, please reach out to us separately and we'll help to guide you to the right direction.

Can I settle my lawsuit if I join and install accessiBe?

accessiBe has successfully helped to dismiss and settle thousands of lawsuits, so yes, you should most chances you'll be able to easily settle and sometimes even dismiss your existing case by joining accessiBe.

How does accessiBe differ from web accessibility plugins?

There are dozens of different web accessibility tools you can use for free, that all cover about 20% of the requirements. accessiBe is an all-in-one complete accessibility solution powered by AI and backed by a team of 100 people and leading venture firms

What disabilities does accessiBe cover for?

accessiBe adheres to WCAG 2.1 AA requirements, which includes a wide array of disabilities. Some noteworthy ones are blindness, motor impairments, various degrees of visual and cognitive disabilities.

What happens if I use accessiBe and still get a demand letter?

This is very rare but when you power hundreds of thousands of websites is may rarely happen. If it does, we provide a litigation support package and go above and beyond to help our customers dismiss the case. Not a single customer of ours has lost a case