The information presented within this guide is aimed at website owners seeking to learn the ropes of web accessibility. Technical elements are described in layman's terms, and, as a rule, all topics pertaining to the legalities of web accessibility are presented in as simplified a manner as possible. This guide has no legal bearing, and cannot be relied on in the case of litigation.
If you are a federal agency, a federally-funded organization, or a service provider to such an organization, you need to comply with Section 508 of the Rehabilitation Act. Under the law, your website, along with other information and communication technology (ICT) assets you own and display, must be accessible to people with disabilities.
To determine whether these assets comply with the law, you will need to test them. And, while a certain level of manual intervention will likely be necessary, a significant part of the testing process can be conducted through powerful, automated tools. Analyzing various areas of your website and online documents, these tools can provide you with critical information regarding their level of compliance, saving you time and money in the process.
However, knowing which tools you can and should rely on for an accurate assessment of your website and ICT isn't always easy.
That's ‌what this list is for.
In this guide, we explore the best tools for Section 508 compliance testing. We will explain which tools you should be using to test websites and which should be reserved for online documents. We will also highlight tools you can leverage to test other ICT assets to ensure they comply with Section 508 to the fullest extent.
Section 508 compliance: an overview
A key part of the Rehabilitation Act of 1973, Section 508 was enacted to provide members of the disability community with equal access to electronic and information technology developed, procured, maintained, or used by the federal government. Organizations that must comply with this law include federal agencies, organizations that accept federal funding, and service providers to such organizations.
As the original legislation did not account for web accessibility, Section 508 was amended in 2017 and websites and other web-based applications were added to the list of ICT that relevant bodies needed to make accessible.
In early 2018, lawmakers added a rule setting the Website Content Accessibility Guidelines (WCAG) 2.0 as the standard websites and web-based applications must adhere to under Section 508. Published by the World Wide Web Consortium (W3C), WCAG has become one of the most influential sets of guidelines pertaining to web accessibility.
Throughout the years, there have been a number of WCAG iterations:
Each WCAG version includes three levels of conformance: Level A being the most basic, Level AA the conformance level referenced by most international laws, and Level AAA, the highest level of conformance and hardest to achieve.
Under Section 508, websites and other web-based applications need to conform to WCAG 2.0 Level AA.
Automation vs. manual testing: what is the best approach to determine Section 508 compliance?
There are two common approaches toward testing websites and other web-based applications for Section 508 compliance:
Manual testing
Automated testing
Each method has its unique advantages:
Manual testing methodologies, although more labor-intensive and costly, provide valuable quantitative and qualitative data. Skilled testers thoroughly examine your ICT's features and technologies, assessing them against WCAG standards. This approach offers qualitative insights, uncovering any potential challenges your ICT may pose for individuals with specific disabilities. This information serves as a foundation for developing a plan to address these issues​. Automated testing approaches are particularly efficient during the initial stages of accessibility compliance testing. Tools like accessScan can greatly enhance manual testing efforts by offering speed and cost-effectiveness. This approach proves especially beneficial for larger websites or when dealing with a high volume of ICTs that require compliance testing​​.
So, which approach is best?
As each testing method offers its own distinct advantages, the testing approach that yields optimal results is one that blends both automation and manual intervention.
Automated testing tools, like those we will present in the next section, can quickly identify many of the compliance issues existing within your website and web-based applications. With those flagged, you or, preferably, an expert service provider like accessServices, can further investigate these issues. Manual testers can also dig deeper into potential compliance issues that aren't always evident and that automated testing solutions sometimes miss.
What are the top Section 508 compliance tools in 2023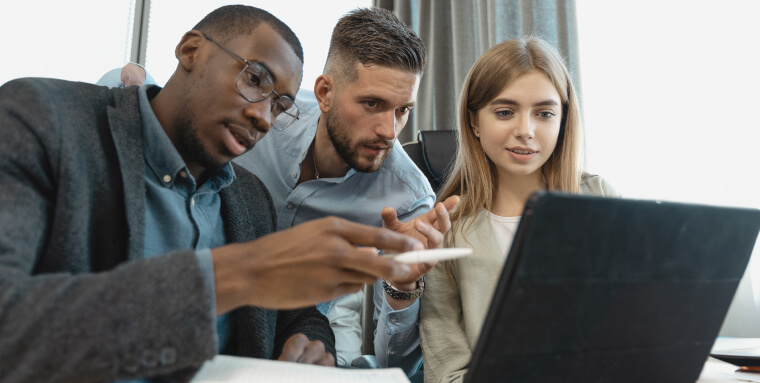 Below are some of the best Section 508 testing tools available in 2023.
We've divided these tools into three categories:
Section 508 website compliance testers
Section 508 PDF compliance testers
Section 508 Microsoft Office and Outlook testers
The top Section 508 compliance testing tools for websites

1. accessScan
accessScan is a free, automated tool that examines whether your website is Section 508-compliant. Once you submit your website's URL, accessScan will quickly examine its level of conformance with WCAG 2.1 Level AA.
Within seconds, you will be assigned a score (compliant, semi-compliant, or non-compliant), along with a report detailing specific elements' level of compliance. The report (which you will be able to download as a PDF) will also include instructions on how to address and remediate compliance issues found during the test.
Click here to use accessScan and find out if your website is Section 508-compliant.

2. Web Accessibility Extension

Developed by Accessible Web, the Web Accessibility Extension is an automated testing tool you can use to examine your website's level of Section 508 compliance. The tool scans specific web pages, evaluating their level of conformance with WCAG 2.1 Level AA. The tool also offers a contrast ratio checker, which shows you whether color pairings sufficiently contrast.
Pricing:
You can use the extension for free for 30 days, after which you will need to purchase a paid subscription plan. These start at $79 per month.

3. Accessibility Checker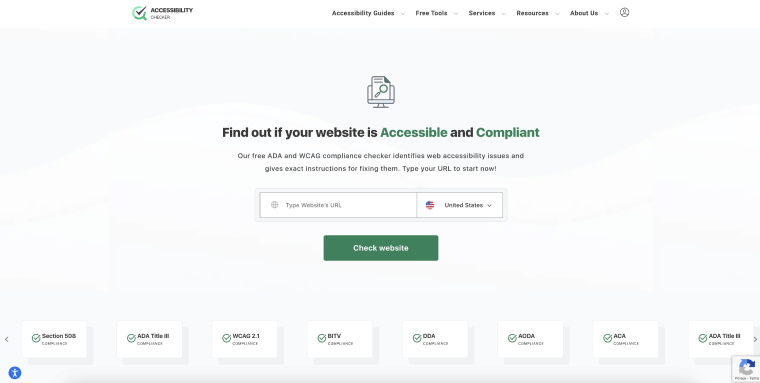 Accessibility Checker is a testing tool that evaluates a web page's level of conformance with WCAG standards. Once it completes its scan, Accessibility Checker generates a detailed report highlighting the compliance issues existing within the web page. To help remediate these accessibility issues and achieve Section 508 compliance, Accessibility Checker will recommend more powerful tools, like accessWidget, that can resolve these issues.
Pricing:
You can use Accessibility Checker for free on up to five web pages a day. For businesses with larger websites, packages are available starting at $99 per month.

4. Colour Contrast Analyser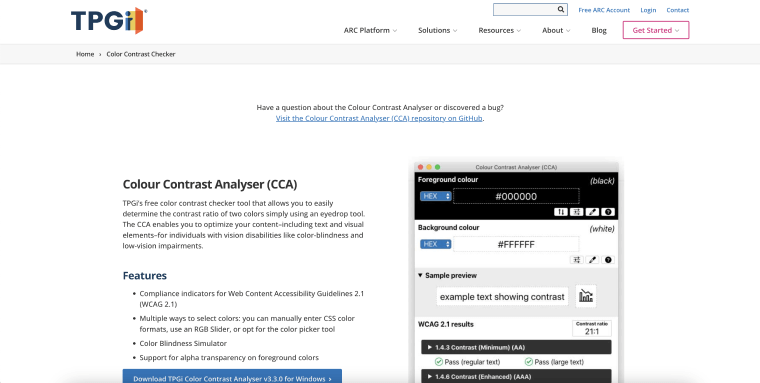 Developed by TPGi, Colour Contrast Analyzer is a free tool that lets you measure the contrast ratio between two colors with a simple eyedrop feature. It's a handy tool for making your content more accessible, including both text and graphics, especially for those who are color blind or have low-vision conditions.
Pricing:
Colour Contrast Analyser is free.
The top Section 508 compliance testing tools for online documents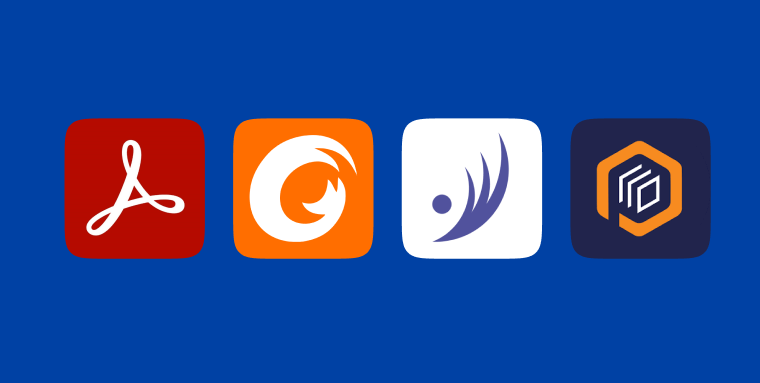 1. Adobe Acrobat Pro DC
Adobe Acrobat is the most popular PDF platform in the world, and it also includes an Accessibility Checker tool. It can be activated by going to the "Tools" pane, then selecting "Accessibility." From there, choose "Full Check" or "Accessibility Check" to run the Accessibility Checker.
The tool reviews the PDF, and flags a variety of accessibility issues that will need to be remediated to achieve Section 508 compliance.
Pricing:
Subscription packages to Adobe Acrobat Pro start at $19.9 a month.

2. Foxit PDF Editor
The accessibility checker within Foxit PDF Editor is a built-in feature. To use this tool, head to the "Accessibility" section found under the "Protect" tab on the main toolbar. From there, select "Full Check" to initiate a comprehensive analysis of your file. The software will then assess the document and provide a thorough report that details a file's level of conformance to WCAG 2.0 Level AA - Section 508's standard for compliance.
Pricing:
Subscription packages to Foxit PDF Editor start at $13.25 a month.

3. PAC
PAC allows you to quickly examine a PDF file and see how well it adheres to WCAG and other web accessibility standards. You can drag and drop your PDF file into the application, after which the tool will quickly analyze it. You will then be presented with both a summary report for decision-makers and an in-depth report for locating precise issues​.
You will need to download PAC to use it. Once downloaded, you will need to drag in or select your PDF file and press "Start Testing." Clicking on the "Screen Reader Preview" button will demonstrate how the PDF would be read to a person who is blind.
How are results displayed in Pac?
When you click on the "PDF Report" button, the system creates a report​ that details the problems detected during the test.
Pricing:
PAC is free.

4. PAVE
PAVE (PDF Accessibility Validation Engine) is a tool developed by the ICT Accessibility Lab of the ZHAW School of Engineering. To use it you will need to upload your PDF file on this page, and fill in and submit some personal information. The tool will then immediately analyze your file and flag accessibility issues. You will be able to scroll through the PDF, clicking on various sections to see whether they are accessible. Elements appearing in green have no detected issues, while those in red are problematic and require remediation.
Pricing:
PAVE is a free platform.
Microsoft Office and Outlook accessibility testers
Similar to Adobe Acrobat, Microsoft Office applications offer built-in accessibility testing tools.
You can use them to flag many accessibility issues existing within your Word documents, Excel files, and PowerPoint presentations. These tools examine whether alternative text has been added to images, and whether documents feature sufficient color contrast between text and its background.
To enable these tools, navigate to the "Review" tab and click on "Check Accessibility." The Accessibility Checker sidebar will appear, highlighting potential issues and providing recommendations for improvement.
It is important to note that this feature exists within Microsoft Outlook, as well.
Under Section 508, email needs to be accessible and to meet the sections of WCAG that apply to it. You can enable the accessibility checker in Outlook before sending an email, by clicking on "Options" in the message window, then "Mail", and finally "Spelling and AutoCorrect." In the "When correcting spelling in Outlook" section, check the box for "Check Accessibility."
Testing websites and online documents using screen reader technology
To gain a proper understanding of the way certain visitors interact with your website and online documents, it is advisable to try to navigate through it using a screen reader. To that end, you can use the following tools:
NVDA
NVDA (NonVisual Desktop Access) is a free screen reader that allows you to examine how its users, primarily people with vision impairments, experience various aspects of your website and online documents. This is especially important when engaging with elements such as forms and dynamic content. If these aren't configured correctly, the screen reader will either skip over them or describe them in an incomplete, confusing fashion. It is important to note that NVDA is only available for PCs running Microsoft Windows 7 SP1 and later.
JAWS
JAWS (Job Access With Speech) is the most popular screen reader in the world. It can be used on Windows OS, and paints a precise picture of the way people with vision impairments who rely on such tools experience your website. JAWS' pricing packages begin at $95 a year.
VoiceOver
A screen reader tool available specifically for Apple products, VoiceOver can be used to test how accessible your website is on Mac, iPhone, and a variety of other Apple products. VoiceOver is free.
The importance of testing for Section 508 compliance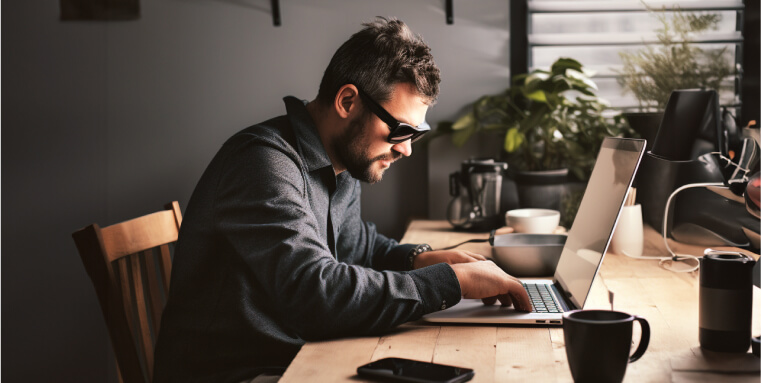 When engaging with websites, web-based applications and other digital environments, the disability community still faces significant barriers that do not exist for others. Complying with Section 508 will see you and your organization doing your part in ending this ongoing discrimination. Testing whether your website and other relevant ICT can be fully accessed by all users ‌is ‌the first step in this process. Based on the results yielded by the auditing process, you can understand the areas of your website and web-based applications that are inaccessible to people with disabilities. Then, you can begin taking the necessary steps to remediate them.
It is important to remember that Section 508 is a federal law. Those who fail to comply with it, if it applies to them, discriminate against the disability community and can face legal consequences, including potential lawsuits, as a result. The latter can have a significant negative impact on your brand and reputation.
To fully achieve Section 508 compliance, you might also want to check out our comprehensive Section 508 compliance checklist.
Key takeaways
With a wide range of readily-available powerful tools, testing your website and web-based applications for Section 508 compliance is within reach. Once you gain a proper understanding of your website, online documents, and other ICT assets' level of accessibility, you will be able to address and remediate compliance issues, if they exist.