Instagram is the fourth most popular social media platform in the world, and nearly 15% of the total Instagram population are business accounts looking to expand their reach and increase revenue. Currently, there are more than 2 billion users, which is expected to increase to 2.5 billion by the end of 2023. For the many users that have disabilities, engaging with visual content, reels, hashtags, and links can pose accessibility challenges.
To make your Instagram presence inclusive and engage a wider audience that will share and repost your content to help improve your visibility on the platform, you need to make sure that your posts are accessible.
Here's how to create inclusive Instagram posts that offer engaging content for everyone.
Step #1: Add descriptive alternative text
Images on Instagram were once the sole reason people logged onto the platform and they're still a large part of why people do. For blind people who use screen readers, you want to make sure that you include alt-text on these images, so they can catch up with life updates and milestones their friends are sharing on the main feed. Alt-text provides people using screen readers with a clear description of what your image entails, both text and visually, and gives them full context when interacting with your content. To learn more about writing the perfect alt-text, check out our guide here.
Instagram automatically generates alt-text on the images your business uploads, but here is how you can edit alt-text for a photo before you share it.
To see and edit alt text for a photo before you post it on Instagram:
Start by taking a photo or uploading an existing photo
2. Choose a filter and edit the image.
3. Then, tap "Advanced Settings" at the bottom of the screen
4. Tap "Write Alt Text"
5. Write your alt text in the box and tap "Done"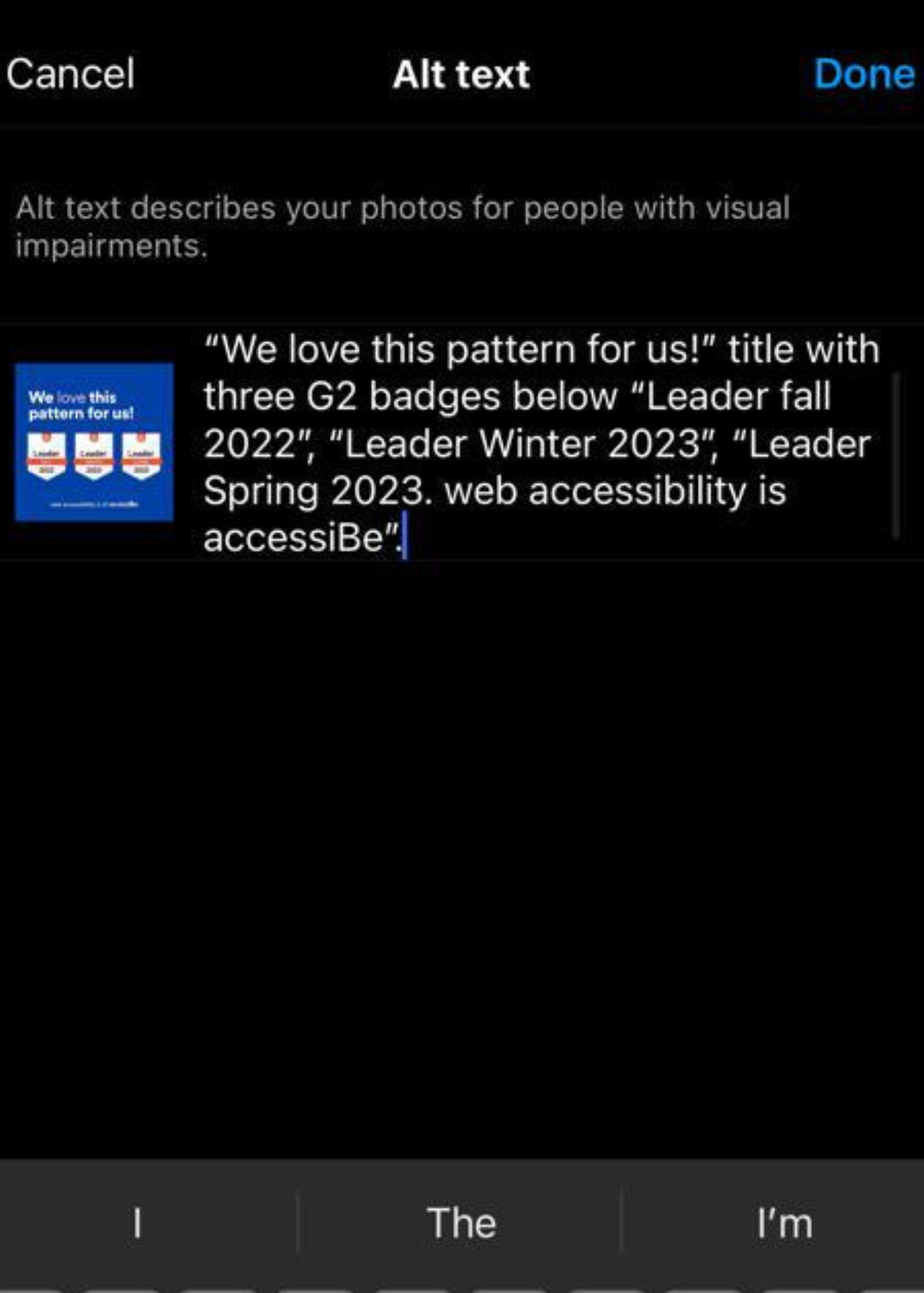 Step #2: Add captions to stories and reels
Instagram reels and stories are a crowd favorite and to exclude people with disabilities from these formats is not Instagram-inclusive. Reels engage users on a more interactive level and invite your audience to communicate with you. Closed captions on stories and reels are an absolute must for people with hearing disabilities. Plus, closed captions are often used by the majority of online users who prefer to listen to reels or videos with the sound off at different times.
This particular accessibility feature isn't available on Instagram's desktop version, but it can be accessed and used on mobile devices.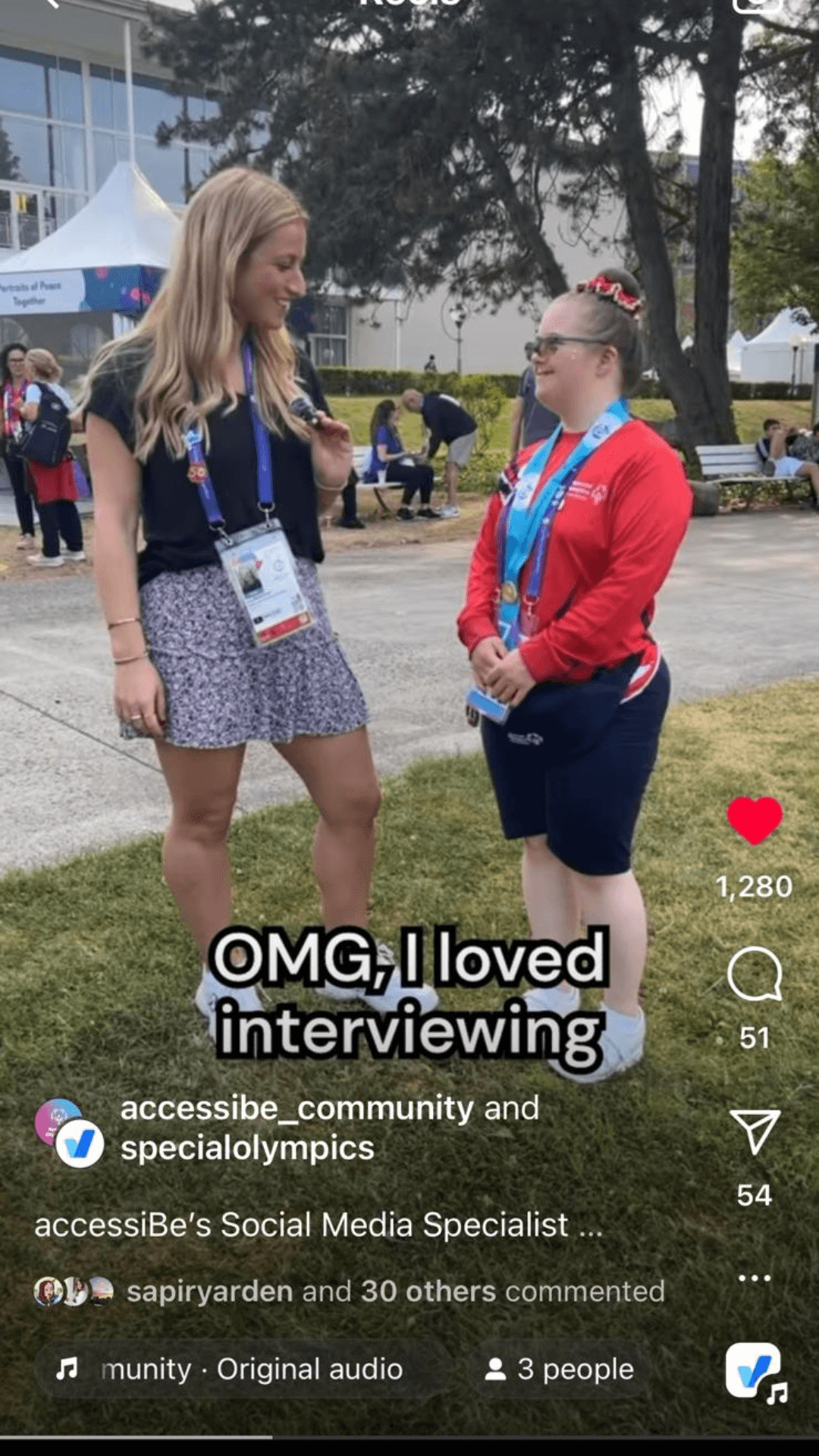 To add closed captions to your Instagram stories:
1. Click on the + icon on the top right-hand corner of your profile
2. Click on the "Story" option to record or upload a video from your phone
3. Click on the emoticon option that you can see at the top of the screen
4. From the list of stickers that pops up, you need to select "Captions"
5. There will be multiple formats available for the captions; choose the one that you want for your story
6. The auto-generated captions will display every word said in your story
To add closed captions to your Instagram Reels:
1. Click on the + icon on the top right-hand corner of your profile
2. Click on the "Reels" option and record or upload a video from your phone
3. Click on the sticker option and choose "Captions"
4. From the list of stickers that pops up, you need to select "Captions"
5. Then, the auto-generated captions will display every word in your reel
6. Preview the reel to see the audio's auto-generated text before sharing
To add captions manually to a story or reel, click on "Story" or "Reel" to upload or record something on the spot. Then, click on the text icon on the top. Begin writing the text as it was said in the video and you're done. As the story or reel starts playing, the text will appear.
Step #3: Capitalize each word in hashtags
Hashtags are how Instagram users find your content. Without them, your stories, reels, and images are lost and lonely in a social media black hole. Since hashtags can help users search for the topics they want to see, they need to be accessible to people with screen readers and cognitive disabilities.
First, remember to capitalize the first letter of each word in your hashtag. As long as each word is capitalized, a screen reader should be able to dictate the hashtag as it's supposed to be read instead of as one word (which doesn't make any sense). Capitalization also helps mitigate confusion for anyone living with a cognitive disability that affects reading. The capitalized words will help users recognize patterns and keep following your brand.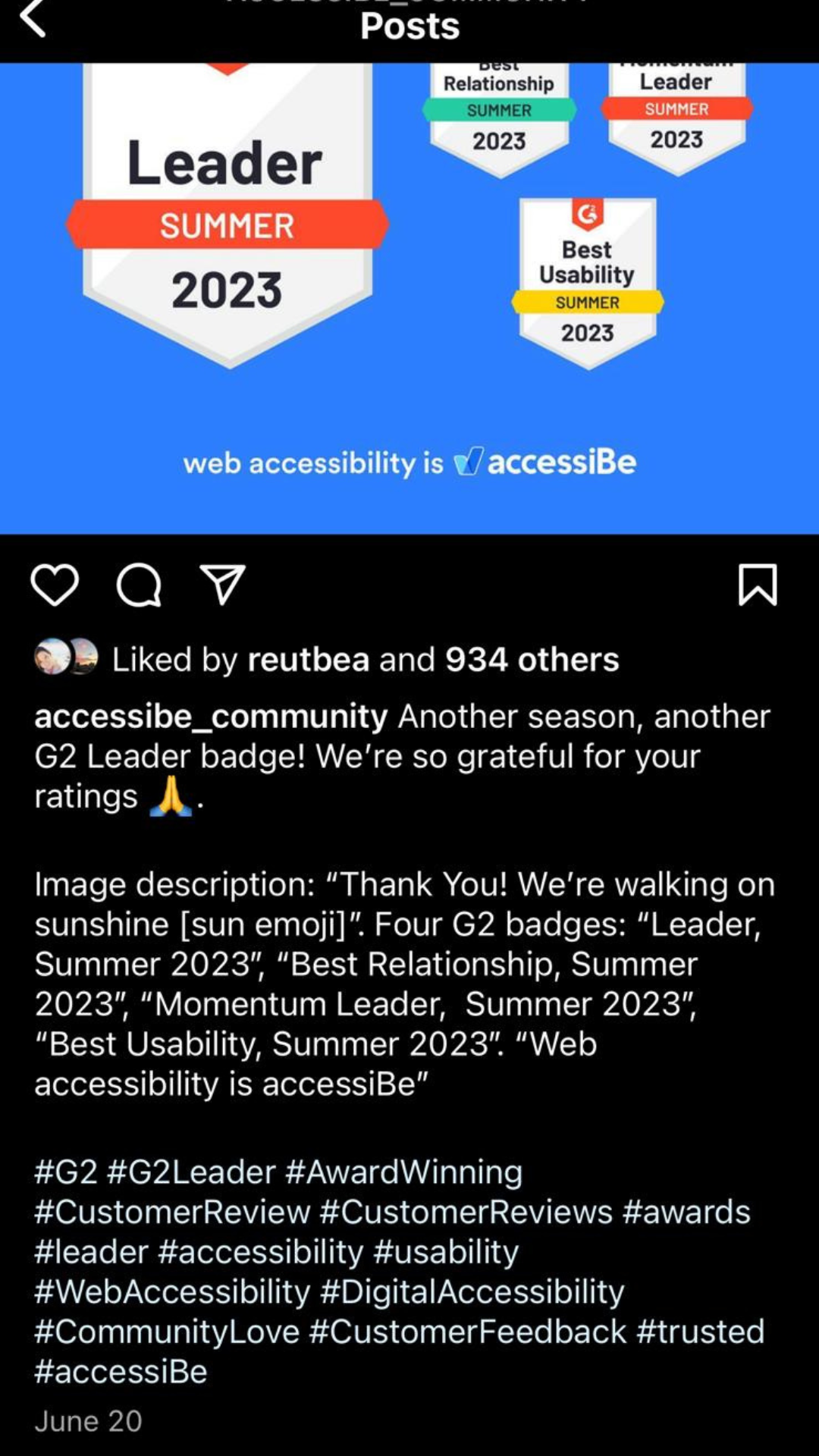 Step #4: Use emojis and text carefully
Emojis are an essential part of Instagram copy and this step is critical in making your posts more accessible to people with cognitive disabilities and screen readers. Don't worry, you can still use emojis and clever copy, but keep it inclusive too.
Remember, what emojis look like and what they sound like to people using screen readers don't always line up. Emojis should be used carefully so that screen readers don't break up the sentences they're trying to dictate to an Instagram user who is blind. The clear and concise text around the emojis means using language that is digestible for everyone so that they can read your content and take away added value from its message.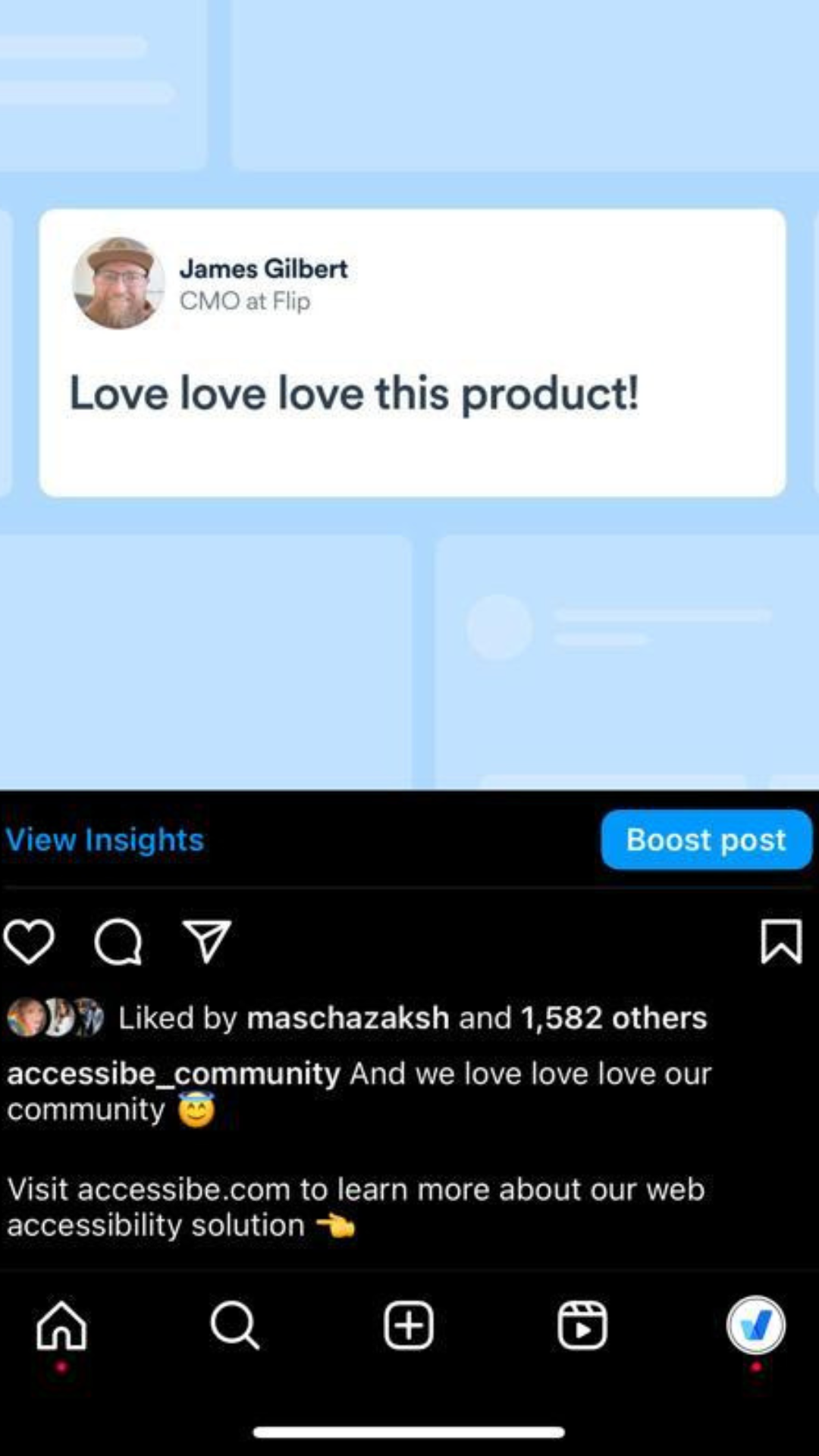 Step #5: Use accessible design principles on creatives
Accessibility features within Instagram and inclusive copy practices are great, but you can still do more to ensure that your business's content is accessible. Discuss WCAG 2.1 AA design principles ahead of time with your design team if you're working with them directly as part of your business or marketing strategy. Let them know that images and reels can be designed according to the WCAG to ensure optimal accessibility even before you have to use the accessibility features inside Instagram. The two most important design principles to remember are limiting flashes for users with photosensitive epilepsy and ADHD, and designing with proper color contrast for anyone with visual disabilities.
Instagram users with photosensitive epilepsy can experience a seizure triggered by flashing images. So, when designing an image or reel with flashes, it's best to keep the flashes to a maximum of 3 flashes per second because anything between the frequency of 5 to 30 flashes per second are most likely to trigger seizures.
Color contrast refers to the difference in light between a font and foreground designs and their background in any type of content. People with visual disabilities need to be able to distinguish between a text's font and its background, otherwise, it appears blurry and unreadable. The guidelines your design team should follow are according to the WCAG, are applying a 4.5:1 color contrast ratio to normal text under font size 18 and if your content has a font size of over 18 (normal) or 14 (bold), your content should have a contrast ratio of at least 3:1.
Instagram can be an inclusive brand booster
Many different communities, influencers, and businesses call Instagram their social platform of choice, and that's why we need to make sure that every image, reel, and story is accessible. The larger that Instagram's population grows, the more diverse groups of users and their needs become. If your business wants to be inclusive and establish connections with all types of Instagram users, begin meeting these needs with accessibility practices and design principles to cultivate a stronger brand and long-term growth.