The perfect image can make or break the success of a great social media post. You might not realize it, but unless you add alternative (alt) text, not everyone will be able to fully appreciate your post. Alt text is a description of an image read to blind and low-vision users that use screen readers. This practice is fundamental to inclusive marketing and only takes a minute.
When you're writing alt text on social media platforms, keep the following tips in mind:
Keep it as short and concise as possible
Include text if it's in the image
Don't write "image of" or "photo of" because that's what you're supposed to be describing
Don't be repetitive
So, what does a good alt text actually look like? Let's take accessiBe's G2 badge image, for example. For the alt text, we want to clearly explain what the image says and what it looks like: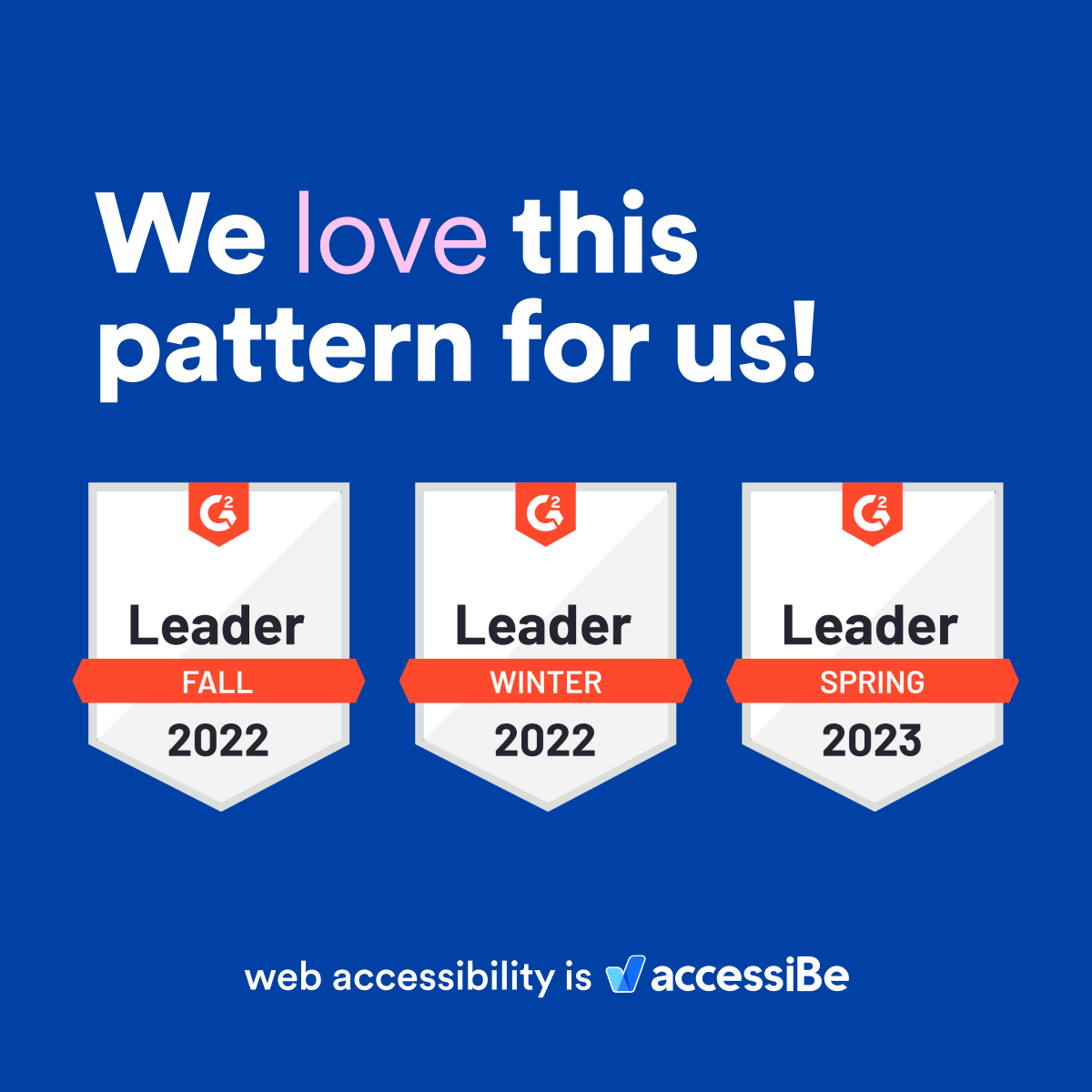 Here is the alt text for the image:
Title "We love this pattern for us!" "Love" is highlighted. Below, three achievement badges accessiBe has received from G2. The first is "Leader Fall 2022." The second is "Leader Winter 2022." The third is "Leader Spring 2023". Below, "web accessibility is" logo accessiBe.
Now, it's time to post the image on our social media platforms.
Here's a step-by-step guide for adding alt text to posts on each social media channel on your desktop:
Instagram
Instagram without alt text is like peanut butter without jelly. Since the social media platform is all about the visuals, alt text is 100% necessary for accessible engagement. Here's how to do it:
Upload the image to Instagram
Feel free to edit and filter the image, and when you're done click "Next"
Click on "Accessibility"
Write the alt-text in the description box
Click "Share" to post the photo. That's it!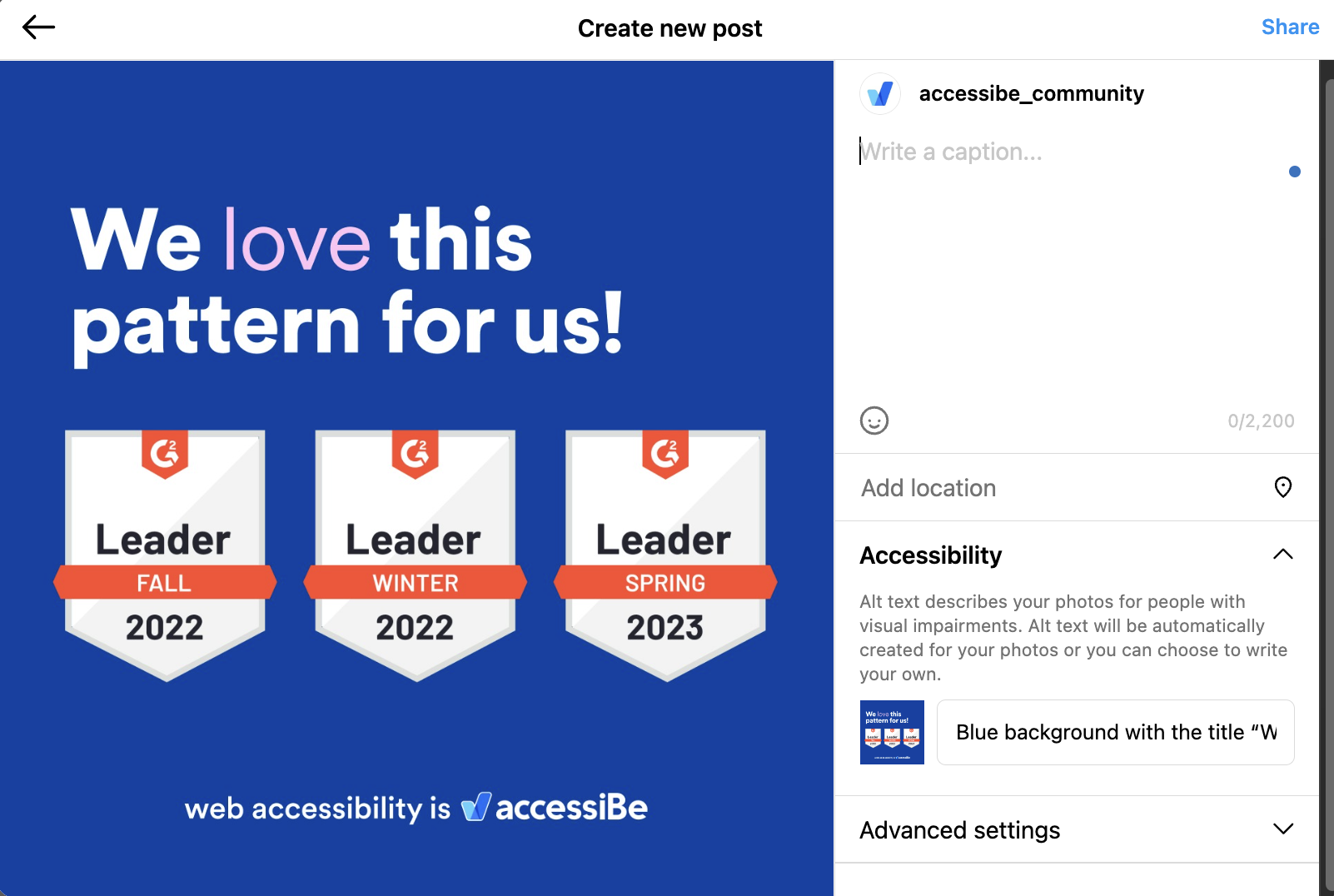 Facebook
A picture says a thousand words. Especially on Facebook. Make sure your audience gets what you're putting out with these alt text steps:
Click on "Photo/Video" to add a new image
Upload the image and then click "Edit"
When the "Edit" menu opens, click on "Alternative Text"
Here you'll probably notice that Facebook added its own automatic alt-text; to get a more accurate and specific description you'll want to write your own version in the "Custom alt-text" box
Click "Save" when you're done!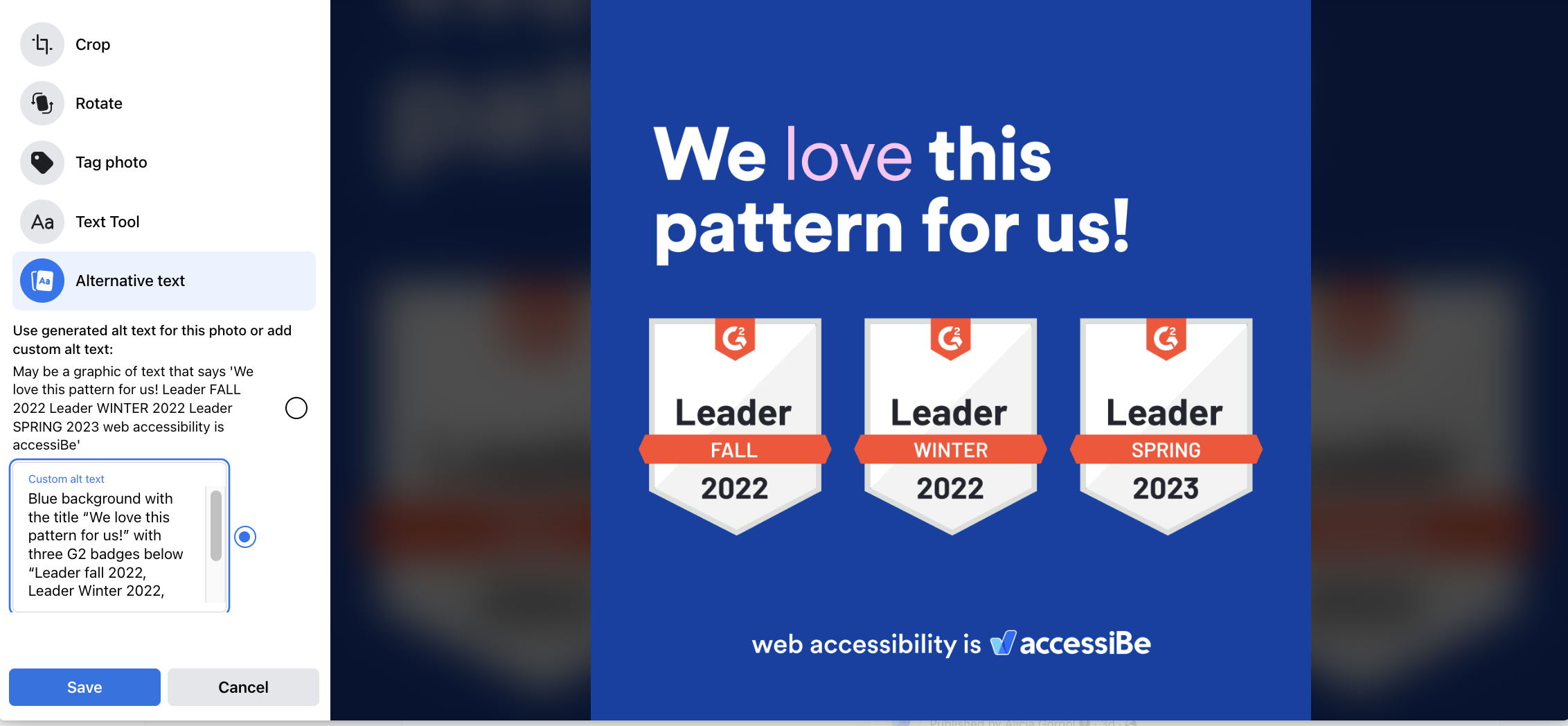 LinkedIn
Networking is much more impactful when everyone can access the content you upload. Especially when that content drives business-boosting discussions in the comments. Here's how to make sure everyone's voice is welcome with alt text:
At the top of your LinkedIn page, click on "Photo" to upload your new post
After the photo is uploaded, you should see "Alt. text" right below it
Click on "Alt. text"
Write the image description in the box
Click "Save" and then you're finished!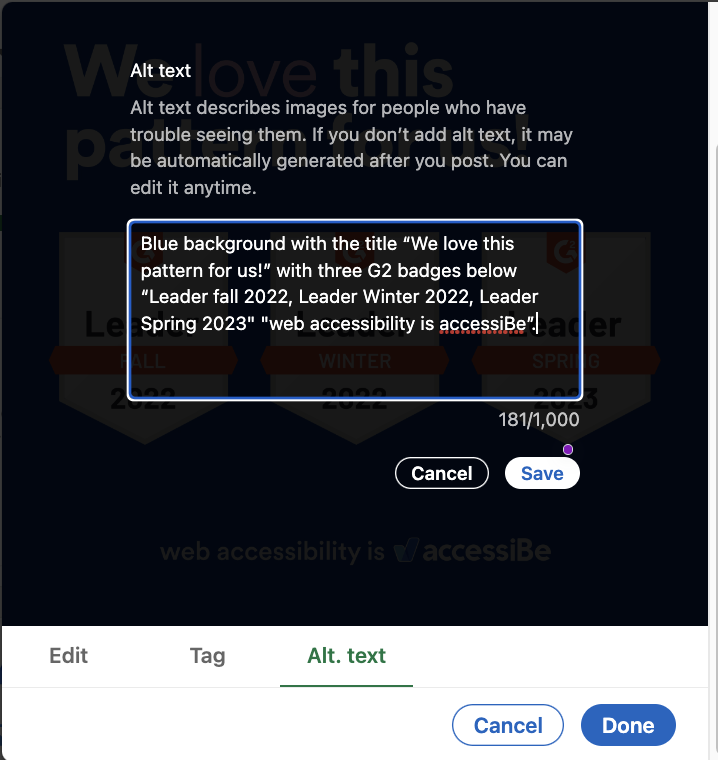 Twitter
Twitter may be a platform of words, but the Twitterverse is buzzing with photo content that's likable, shareable, and unforgettable. To make sure your images are accessible for all those tweeting, follow these steps:
Start by uploading an image to a Tweet
Click on "Edit"
Then click on "ALT" positioned above the image
Write the description in the box at the bottom of the window
Click "Save" and that's all!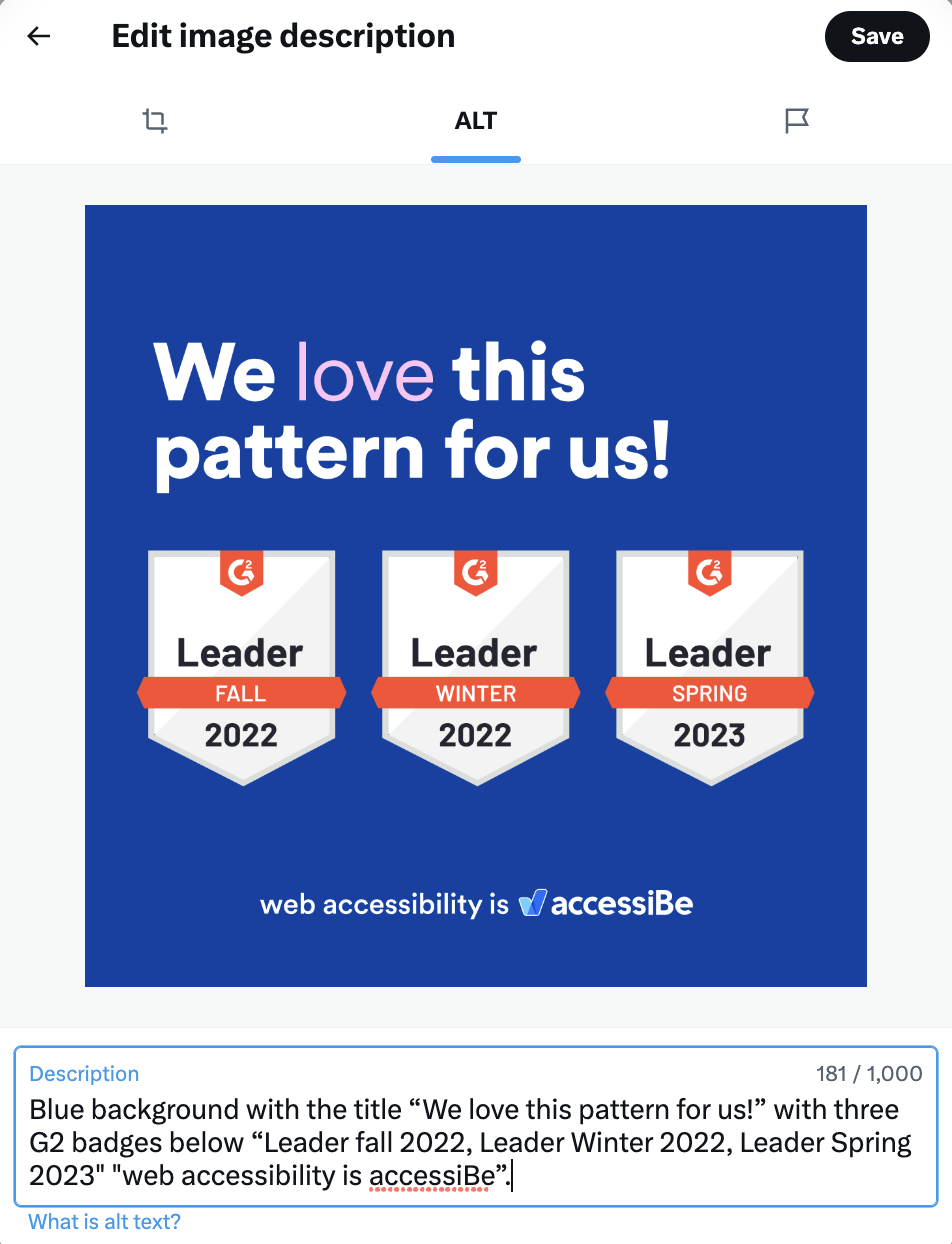 Alt text is for everyone
Before we wrap it up, don't forget that if you're using a scheduling tool to post on any of these platforms, the steps might be different from the native posting guides above. Make sure to check out the alt text steps with your specific scheduling tool so you don't miss the opportunity to reach everyone.
Alt text is a simple and impactful accessibility feature that really makes a difference for the many people using screen readers to be able to engage on your social media. These are valuable voices that you don't want to miss out on.
Happy posting!