Need some

help

  with accessiBe?
Find your

answers

  here!
How can I bill my clients?
This guide is for accessiBe Partners who manage their clients' child accounts and want to bill them for their license. The guide is relevant for both Partner billing methods: purchasing accessiBe at wholesale price and then selling your clients with a margin or purchasing accessiBe at retail price with your clients' credit card.
If the website you want to bill for is already in a trial, skip stepping #4.
To bill a client upon registering a website, follow these steps:
1. Log into your accessiBe account by clicking 'Account' in the top right corner of accessiBe's homepage.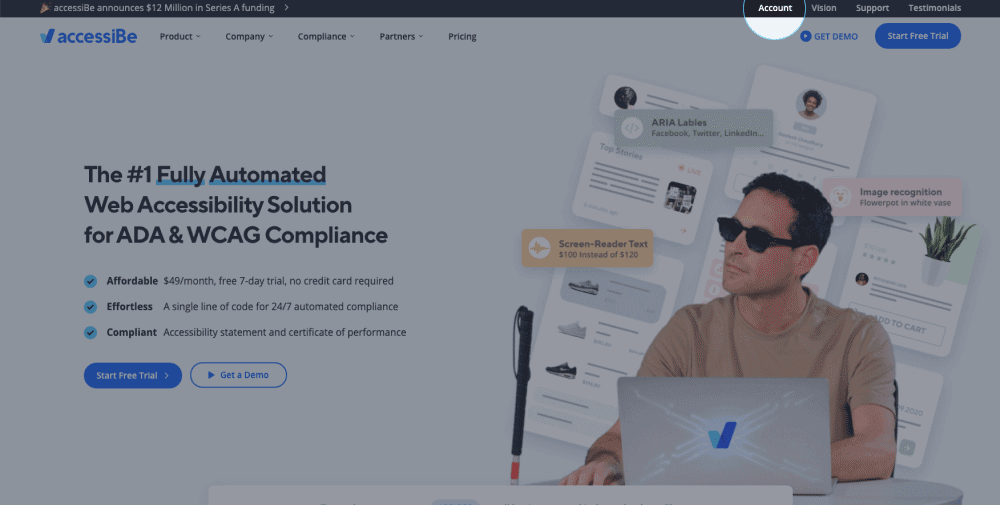 2. Go to the 'My websites' page and click on 'Add websites' in the upper right corner of the table.
3. Add the website(s) and click on 'Start free trial'.
4. Locate the website on the 'My Websites' page and click on 'Manage' to the far right of the website name.
5. Fill out clients' contact details (we will not contact them!)
6. Choose the payment plan for the website, according to page count. Please notice that the prices listed for the payment plans include the 20% discount you receive as a Partner. You can disable this (for Partners who are buying licenses on behalf of their clients with their credit cards) in the next step. Click 'Go to Billing'.
7. Choose your payment method, either an existing one or add a new one, and click on 'Confirm payment'. Please notice the button in the right-hand corner to either enable or disable the discount. Choose the option you want to proceed with for your client.
If you are buying an accessiBe license on behalf of your client with their credit card, choose 'Discount disabled'.
If you are buying an accessiBe license on your own payment method with a 20% discount, choose 'Discount enabled'