In business, everyone uses slide decks, from sales demos to all-hands. Slide decks are the visual launchpad for important discussions and information in the working world. But if they're not accessible to everyone, you're business is missing opportunities that could shape your culture and success.
To make sure your slide decks are inclusive, consider three essential factors: navigability, understandability, and legibility. These principles ensure that people with disabilities can actively understand and engage with your presentation.
"Like many other marketing materials, slide decks should be easily legible, pass a contrast test, and not be dependent on colors or specific fonts to denote crucial information. Before presenting, I would always recommend getting a second person to browse through the deck to make sure it makes sense and can be read without you fully narrating the content per slide." - Valaree Machen, Sr. Manager of Integrated Marketing Communications at Uplifting Athletes
Here are some tips and guidelines you can use to make your slide decks inclusive to all.
Get ahead of the game
Before you've crushed your presentation, save your slide decks in an accessible format and send them out so people can read them and save them later for reference. For example, if you didn't use one of the templates provided in PowerPoint that are pre-approved for screen readers and other assistive technologies, you can still export your slide deck to a new, accessible file. People using screen readers can open it on a personal device or export it to a Braille reader. With Google Slides, you can share a link to the HTML view of your slide deck which uploads as a single and scrollable page. For many screen reader users, HTML pages are just easier to navigate.
Less is More
When creating a slide deck, it's best to keep things simple. Minimalism is the name of the game, and you want to make sure that any excessive slides, text, and visuals aren't cluttering your decks and taking away from your main points:
Minimize the number of slides: Too many slides that take more than 15 minutes to comb through can cause exhaustion and frustration for those on the receiving end of your presentation. If there are more than 10 slides in your decks, suggest coffee and bathroom breaks for people who have been intently listening or engaging respectfully.
Limit the number of visuals on slides: People with screen readers are relying on alt text in your visuals to gain the full context of your show and tell. Be conscious of the amount of visuals so that people using screen readers can still hear the alt text descriptions and listen to your talking points without much interruption.
Minimize the amount of text on slides: Crowding your slides with text can make it challenging for people with cognitive disabilities to follow along and absorb information in a structured manner. Try to keep minimal text on screen, and put the bulk of what needs to be said in the speaker notes.
"I personally learned to put together PowerPoints in a different format than I have used for years. For this community, less is more, and therefore we put many more pictures on the slides rather than lots of words. The words were in my speaker notes." - Joanne Cohen, Vice President at Brain Injury Hope Foundation
Plain and simple
If you need to add charts and tables to your slide decks, keep them simple and easy to comprehend. Typically, tables with fixed widths might prove difficult to read for anyone using a screen magnifier because tables force the content into a smaller and less legible size. Make graphics as simple as possible so that they can be interpreted accurately and easily with image descriptions for people with visual disabilities or those using a screen reader.
Show your true colors
Your slide decks should pass the contrast test before they're presented to other people, especially if they're living with a disability. You should, more specifically, be using high-contrast colors so that your slide decks are more readable. For example, if you're creating a PowerPoint deck, you'll want to use high-contrast colors for the text and background, with one of each falling on the opposite end of the general color spectrum. This makes it easier for people with visual impairments to distinguish between foreground text and background colors.
"I would say being aware of color contrast is extremely important when it comes to visual presentations. And if captioning for AV is included, make sure it doesn't cut out or fade out against the background colors." - Zoya Islam, Communications Manager at The Samuel Center for Social Connectedness
For people who are color blind, white and black schemes are your best option because the contrast makes it easier to distinguish text and identify shapes. Also, never depend on a specific color to determine, characterize, or differentiate information on your side decks. People with color blindness should be presented with text that provides unambiguous information.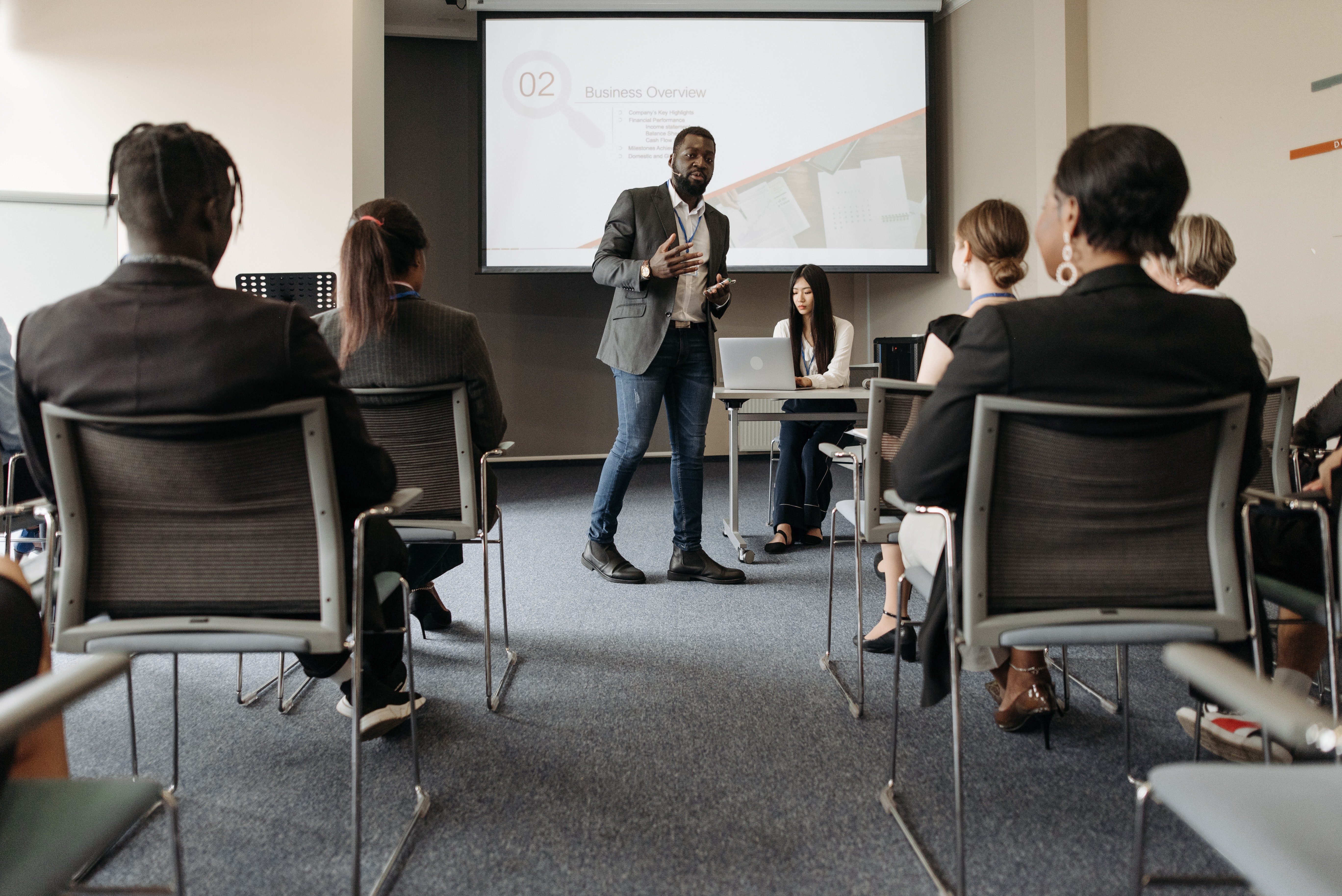 Explain the bigger picture
Visuals and multimedia need to be accessible when you embed them in your slide decks, and there are no exceptions to any type of file or format. If you plan on including GIFs or animations, for example, make sure that you can control the speed or pause any flashing elements and quick movements so you don't trigger people with photosensitive epilepsy.
Closed captions open up dialogue
Videos in your slide decks must be captioned or auto-described for people with hearing disabilities so they can experience your content to its fullest degree. Transcripts can also be delivered to presentation participants before your meeting. This type of material will allow people with hearing disabilities to follow videos and other multimedia in real time. With Google Slides, you have the option to present slide decks with captions turned on from the speaker's end; when presenting, just turn on automatic captions to display your words as you speak and they'll appear at the bottom of the screen.
Alt text is always necessary
Alt text in your slide deck's visual is crucial for people using screen readers. As we mentioned before, it gives them the full context of the visual with clear and concise descriptions. Google Slides allows you to manually enter alt text into visuals and graphics by clicking "Format options" and then "Alt text." For more on how to create the perfect and most concise alt text for your visuals, check out our guide here.
Be crystal clear
Clarity in your slide decks is important so that you can relay your information to presentation participants smoothly and surely. But it's not just about how you write; it's about the font you use and how you describe hyperlinks that lead a person to an outside source or reference.
Links don't need to start a hype
When creating your slide decks, create accessible hyperlinks by using clear and accurate descriptions about the link's destination or action. For people using screen readers, it can be a hassle to click on the wrong hyperlink that takes them to an external source they don't need. The same goes for people with cognitive disabilities who appreciate a straightforward description of where they're headed to gather extra information and details on a subject matter.
The bigger the font the better
The font on your slide decks, whether it's just regular text or the actual hyperlinks, should be at least 24 points and in a San Serif style such as Arial, Verdana, or Helvetica. Easy-to-read font is accessible and inclusive for everyone with disabilities and ensures that no one misses vital information that they can take away from your presentation's slides.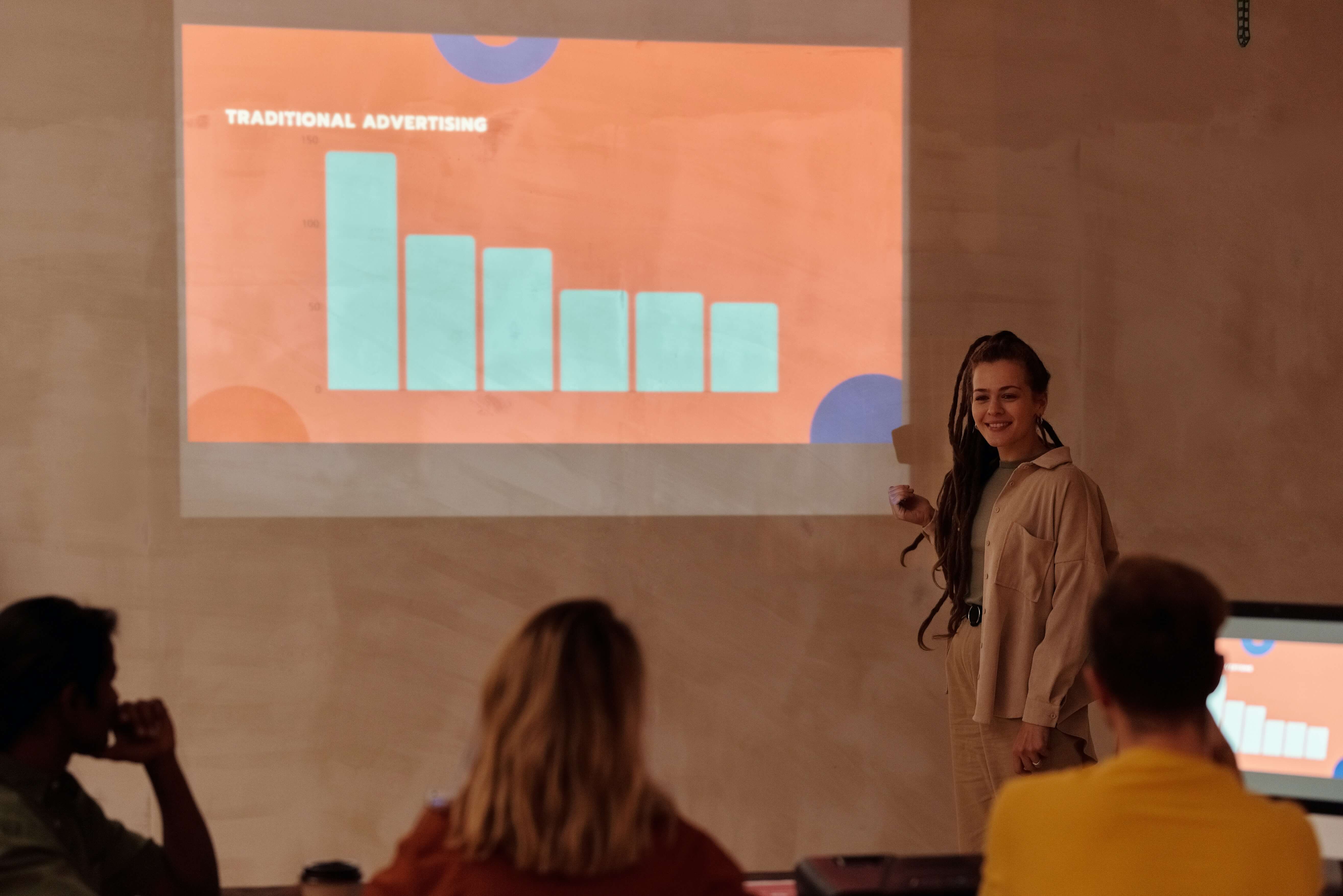 It's cool to be inclusive
If you really want to start conversations, get the word out about your product, and create an inclusive, internal culture at your business, then accessible slide decks are the way to go. And besides that, making sure that everyone can access your presentation is just the right thing to do. Take advantage of templates, design principles, and one of the many courses that offer tips on how to be more inclusive.
"Everything that I follow comes from the course on accessible PowerPoints from Deque University." - William Mellon, Digital Resource Specialist at The Ability Center
So utilize these tips and make sure that you slide into inclusion with accessible presentations.