The information presented within this glossary entry is aimed at website owners seeking to learn the ropes of web accessibility. Technical elements are described in layman's terms, and, as a rule, all topics pertaining to the legalities of web accessibility are presented in as simplified a manner as possible. This guide has no legal bearing, and cannot be relied on in the case of litigation.
Far too often, members of the disability community face discrimination when engaging with websites and digital environments. More and more organizations and businesses are realizing this reality must change, and ‌are taking action to ensure they are fully accommodating to all customers and prospects, regardless of ability.
A prominent way in which organizations can prove their commitment toward digital inclusivity is by filling out a Voluntary Product Accessibility Template (VPAT).
Typically filled out by compliance and web accessibility experts, VPATs disclose your website and other information and communications technology (ICT) products' level of conformance to leading web accessibility standards.
For those required to comply with Section 508 of the Rehabilitation Act, filling out a VPAT is mandated by law. However, other organizations and businesses can demonstrate their dedication and commitment to web accessibility by filling out a VPAT, as well.
In this guide we will explain everything you need to know about VPATs.
We will show why they are critical to achieve Section 508 compliance, explain when you should fill out in, and explore the benefits of having experts fill one out for you, as opposed to filling one yourself.
VPATs: an overview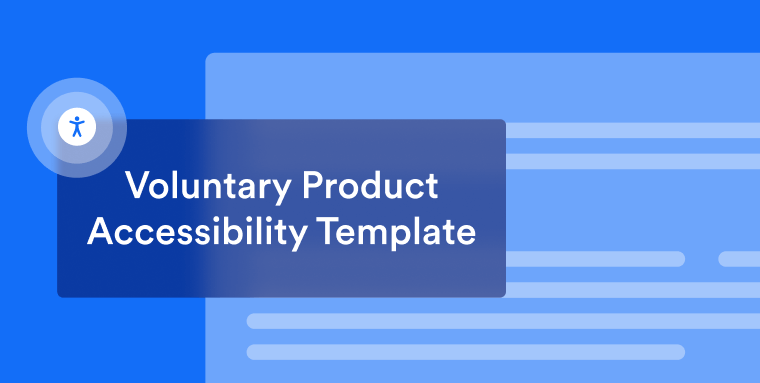 Filling out a VPAT showcases your commitment toward digital inclusivity. When showcased on your website (in the form of a Accessibility Conformance Report, which we'll explain in detail later in the blog), members of the disability community are assured that they are engaging with someone who isn't going to present them with digital barriers that do not exist for others.
While it is a good idea for organizations of all kinds to look into filling out a VPAT, those who must comply with Section 508 of the Rehabilitation Act are mandated by law to do so.
VPATs role in achieving Section 508 compliance

Government agencies and federally funded organizations, along with service providers to such organizations, need to comply with Section 508 of the Rehabilitation Act. The latter exists to protect members of the disability community from being discriminated against when engaging with these bodies' websites, online documents, and other information and communication technology (ICT).
These organizations must make the necessary adjustments to ensure their ICT conforms to specific web accessibility standards, called the Website Content Accessibility Guidelines (WCAG). Created by the World Wide Web Consortium (W3C), WCAG has become one of the most influential sets of guidelines shaping global web accessibility policy.
There are several WCAG iterations that websites and other forms of ICT can conform to:
WCAG 2.0: An earlier version of these guidelines
WCAG 2.1: The current and most up-to-date version of these guidelines
Additionally, within each WCAG version, there are three levels to which websites and other ICT can conform‌:
Level A, the most basic level of conformance
Level AA, the conformance level referenced in most accessibility regulations around the world
Level AAA, the most demanding level of conformance to achieve
To comply with Section 508, you must conform to WCAG 2.0 Level AA, and the changes you make to your ICT to ensure it conforms to WCAG 2.0 Level AA need to be documented in a VPAT.
We will expand on this in greater detail later in the blog. You can skip to that section by clicking here.
You can click here for a comprehensive checklist of action items you will need to cover to ensure your website conforms with WCAG 2.0 Level and achieves Section 508 compliance.
VPAT throughout the years
The VPAT was created in 2001 through a collaboration between the Information Technology Industry Council (ITI) and the U.S. government's General Services Administration (GSA). In 2017, the ITI introduced VPAT 2, an updated version of ‌the first VPAT. VPAT 2 incorporated the revised requirements of the Section 508 standards, known as the Section 508 Refresh. This version of the VPAT was the first to incorporate WCAG requirements.
The current and most up-to-date version of the VPAT is VPAT 2.4, which was released in February 2020.
What organizations are required to fill out a VPAT?
Organizations that must comply with Section 508 need to complete an updated VPAT. These include:
U.S. Federal Agencies: This encompasses various government entities such as the Department of Defense, Department of State, Environmental Protection Agency, and the Department of Health and Human Services
State, County, and Municipal Jurisdictions: Public entities at the state, county, and municipal levels that receive financial aid from the U.S. federal government are also obligated to fill out a VPAT. This includes public schools, state transportation departments, local police departments, and other entities benefiting from federal funding
Service providers to federally-funded organizations: Companies that provide digital products or services to organizations receiving federal financial assistance must also complete a VPAT. For example, software development companies offering content management systems to public universities or contractors designing websites for state government agencies fall under this category
What forms of ICT are VPATs applicable to?
VPATs are applicable to a wide range of information and communication technologies (ICT). These include, but aren't limited to:
Websites
Online documents
Software (e.g., video conferencing software)
Email clients
Hardware
Videos
Podcast platforms and players
When you adjust these ICT assets to conform with WCAG 2.0 Level AA, you need to fill out a VPAT that details the steps you've taken to reach that point.
VPATs' role in legislation other than Section 508
Although they ‌are primarily used by those who need to comply with Section 508, VPATs are also critical for those who need to comply with other web accessibility laws, most notably the European Accessibility Act (EAA). The latter was passed by the E.U. in April 2019, and applies to many public and private organizations in the European Union.
While nothing yet has been codified into law, it is expected that organizations that must comply with the EAA will need to conform to EN 301 549. A policy document produced by the European Telecommunications Standards Institute (ETSI), EN 301 549 outlines official standards for web accessibility. The latest version of EN 301 549, published in 2021, is based on WCAG.
There is a specific VPAT edition tailored for reporting compliance with the EN 301 549.
Relevant organizations may choose to rely on it when documenting the changes made to their ICT in order to conform to EN 301 549. This VPAT edition includes requirements for WCAG conformance.
It is worth noting that when organizations face legal recourse over violating the Americans with Disabilities Act (ADA), they will often fill out a VPAT.
Along with actually remediating their website and web-based applications, filling out a VPAT showcases their efforts toward achieving ADA compliance and accommodating ‌members of the disability community.
To read more about the similarities and differences between the ADA and Section 508, press this link.
The importance of filling out a VPAT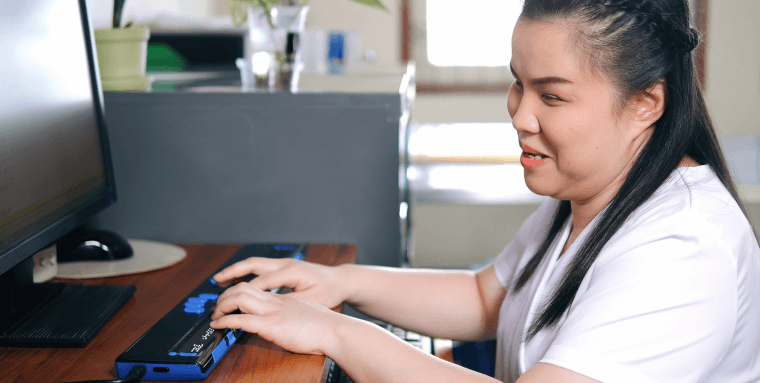 Members of the disability community very often are presented with barriers when engaging with websites and other forms of ICT.
When organizations present websites and other forms of ICT that conform to leading web accessibility standards, such as WCAG, they do their part to combat the discrimination people with disabilities face. Documenting the efforts made to get to that point, in the form of filling out a VPAT, showcases your organization's commitment toward creating more equitable digital environments.
This can prove critical when catering to an audience with a significant representation of members of the disability community, or when attempting to collaborate with organizations that cater to such audiences. These groups will likely seek out service providers (or potential business partners) that have taken actual, documented steps that prove how seriously they consider the disability community's unique needs.
Importantly, organizations that need to comply with Section 508 are legally mandated to fill out a VPAT. Failing to complete a VPAT in a timely fashion can result in legal action.
The four editions of VPATs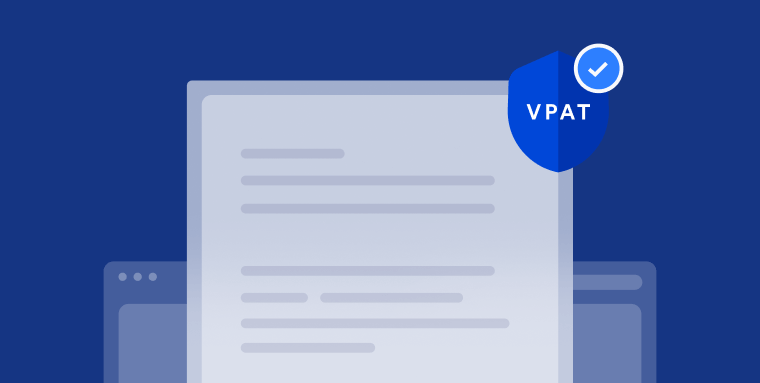 The VPAT is available in four distinct editions, each tailored to address specific accessibility standards and requirements:
1. WCAG Edition
This VPAT edition focuses on reporting the conformance of ICT products with the Web Content Accessibility Guidelines (WCAG) 2.0 or 2.1. It is suitable for vendors and organizations that want to specifically highlight their adherence to WCAG standards in their accessibility reporting.
This edition appears in all four available VPAT editions. Those looking to prove their commitment toward web accessibility under laws such as the Americans with Disabilities Act (ADA) can use this VPAT edition.
Organizations that face legal recourse for not complying with the ADA will oftentimes fill out this VPAT edition as part of their overall efforts to remediate their website (and web-based applications) and achieve compliance.
2. Section 508 Edition
This VPAT edition is designed to report compliance with the Revised Section 508 requirements, in addition to WCAG.
This is the VPAT version you will need to fill out if you need to comply with Section 508.
3. EU Edition
The EU Edition of VPAT is tailored to reporting compliance with the European Standard EN 301 549, in addition to WCAG. EN 301 549 provides accessibility guidelines for ICT products and services across the European Union.
This edition caters to vendors and organizations that need to demonstrate compliance with accessibility requirements specific to the European market.
4. INT Edition
The International Edition is designed to cover all three standards mentioned above—WCAG, Revised Section 508, and EN 301 549. It allows vendors to report on the compliance of their ICT products with multiple accessibility standards, enabling them to cater to a broader global market.
If you sell to an international audience, you will likely want to fill out this VPAT edition, as it includes all three main standards in a single template.
The VPAT checklist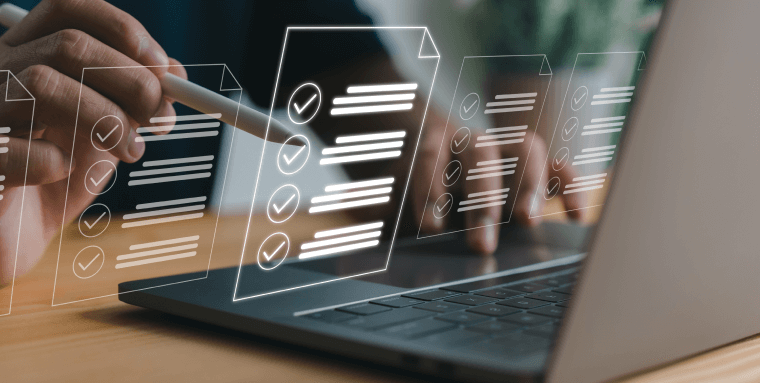 All four VPAT editions are composed of the following sections:
Name of Product/Version: Here is where the name of the relevant ICT is mentioned
Report Date: Here is the date on which the VPAT was completed
Product Description: Here is where the given ICT is explained in greater detail
Contact Information: This will allow a customer to contact a vendor for further information
WCAG Report: Here's where an expert elaborates on various aspects of a given ICT's level of conformance with WCAG. This section appears in the form of a few tables, each consisting of three columns:



In column A will appear specific WCAG criteria
In column B, an expert will indicate whether a website or other ICT conforms to a specific criterion
Column C, titled 'Remarks and Explanations,' is where an expert can elaborate on issues encountered while evaluating a website's (or other ICT's) level of conformance with said criteria



Evaluation Methods Used: Here's where the operating system, browser, and any other tools used are listed
Applicable Standards/Guidelines: This notes which version of WCAG is being used (2.0 or 2.1), and any other standards (e.g. 508)
Legal disclaimer: This section is optional
As mentioned above, each of the four VPAT editions will incorporate the WCAG edition along with additional sections tailored for each specific law.
The Section 508 VPAT version, for example, includes additional tables in which experts are expected to add information relating to a website or other ICT's level of accessibility. These tables are divided according to specific impairments. For example, an expert will need to determine whether a given element within a website can be accessed by a person with vision impairments, or limited motor abilities.
When filling in this section, experts will often reference information they've submitted in the first section of the VPAT (i.e., the WCAG section), instead of submitting the same information twice.
Who should fill out your VPAT?
As you can imagine, the process of filling out a VPAT is time consuming and requires a high level of technical expertise. Additionally, as WCAG is a lengthy, complex document, and being intimately familiar with its many criteria is critical to filling out a VPAT, it is highly recommended to seek the services of web accessibility and compliance experts to complete a VPAT for you.
accessServices, for example, is relied on by many organizations to thoroughly audit websites and online documents. The insights yielded from this auditing process will result in a comprehensive, complete VPAT that can be featured as an ACR on your website or presented by request. It is worth noting that an ACR produced by expert service providers can be viewed as more objective, and those who come across it will likely view it as more reliable.
Click here to learn more about how accessServices can help fill out a VPAT for you.
When should VPATs be filled out?
VPATs are best filled out once the necessary adjustments have been made to ensure your website and other ICT products conform to WCAG. It is recommended to have a new VPAT filled out whenever significant changes are made to your website design or to the content appearing within it, or at least yearly.
VPATs vs ACR: What's the difference?
An ACR stands for an Accessibility Conformance Report. Simply put, a completed, filled out VPAT becomes an ACR. You can feature a completed ACR on your website to showcase to current and future customers and prospects that you have taken the necessary steps to ensure you are accessible to people with disabilities.
Key takeaways
Filling out a VPAT demonstrates the measures organizations have taken to ensure their websites (and other forms of ICT) are fully accessible to members of the disability community. While many organizations should look into completing a VPAT, those that need to comply with Section 508 must do so, under the law.
Because it requires significant technical wherewithal, along with an intimate familiarity with complex web accessibility standards, organizations rely on expert service providers, like accessServices, to fill out a VPAT for them. The latter can be relied on to thoroughly examine your website and online documents' level of conformance with relevant standards, and complete your VPAT in a timely and cost-effective manner.