The information presented within this guide is aimed at website owners seeking to learn the ropes of web accessibility. Technical elements are described in layman's terms, and, as a rule, all topics pertaining to the legalities of web accessibility are presented in as simplified a manner as possible. This guide has no legal bearing, and cannot be relied on in the case of litigation.
If you are a federally-funded organization, or a service provider to federally-funded organizations, you need to comply with Section 508 of the Rehabilitation Act.
Under Section 508, you need to ensure that your website, along with your other information and communication technology (ICT), is accessible to people with disabilities.
But what does that entail?
What specific steps do you need to take to ensure that you are compliant to the full extent of the law?
In this guide, we'll break down what is required of you to comply with Section 508.
We will provide you with a thorough, yet understandable list of action items you should address in order to achieve Section 508 compliance.
You can download a PDF with the condensed version of the checklist by clicking here.
Section 508 compliance: an overview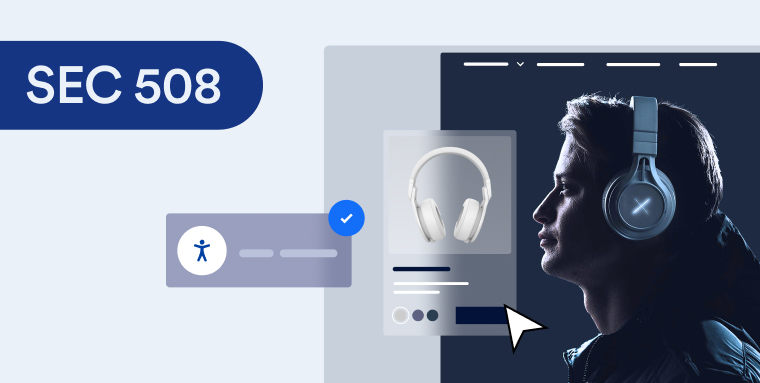 The Rehabilitation Act of 1973 was the first law to outline ways in which the American government should support people with disabilities. The years that followed its enactment were marked by major leaps forward in technology; the kind that couldn't have been predicted or addressed when the Rehabilitation Act was first passed. The disability community often found itself facing technological barriers when engaging with organizations that needed to comply with the law.

To address these developments, Section 508 was added to the Rehabilitation Act, requiring most information and communication technology (ICT) used by a federal agency or department to be accessible to people with disabilities.
In 2017, the U.S. Access Board published an update to Section 508's accessibility requirements for electronic and information technology. The goal of this update was to ensure Section 508 could address contemporary technological platforms and trends. Additionally, legislators were keen on including a stricter definition of "accessibility."
Today, Section 508 applies to software and websites, along with online documents, video and audio content, and social media posts. For these to be considered Section 508-compliant, they must be able to be accessed and used by people with disabilities.
Is Section 508 compliance mandatory for every organization?
Achieving Section 508 compliance is mandatory for federal agencies and organizations that receive funding from the federal government.
Section 508 also applies to contractors or third-party workers that provide services to government bodies or organizations that receive federal funds. This means that small businesses that receive government grants or contract work with federal agencies need to be Section 508-compliant.
The importance of Section 508 compliance
There are a number of reasons why achieving Section 508 compliance is so critical (and beneficial) for the federally-backed bodies and organizations it applies to.
Firstly, Section 508 makes it easier for federal employees with disabilities to do their jobs by removing technological barriers that would otherwise impede their work.
Information and communication technology (ICT) that is Section 508-compliant also benefits a substantial number of people who otherwise couldn't access it. Section 508-compliant ICT ensures that people with disabilities can access the information they need and complete tasks and purchases, just like anyone else.
Finally, the threat of facing legal recourse can have a debilitating effect on any organization. Complying with Section 508 can provide business owners with peace of mind, knowing their organization is doing what is expected of it in the eyes of the law.
How to achieve Section 508 compliance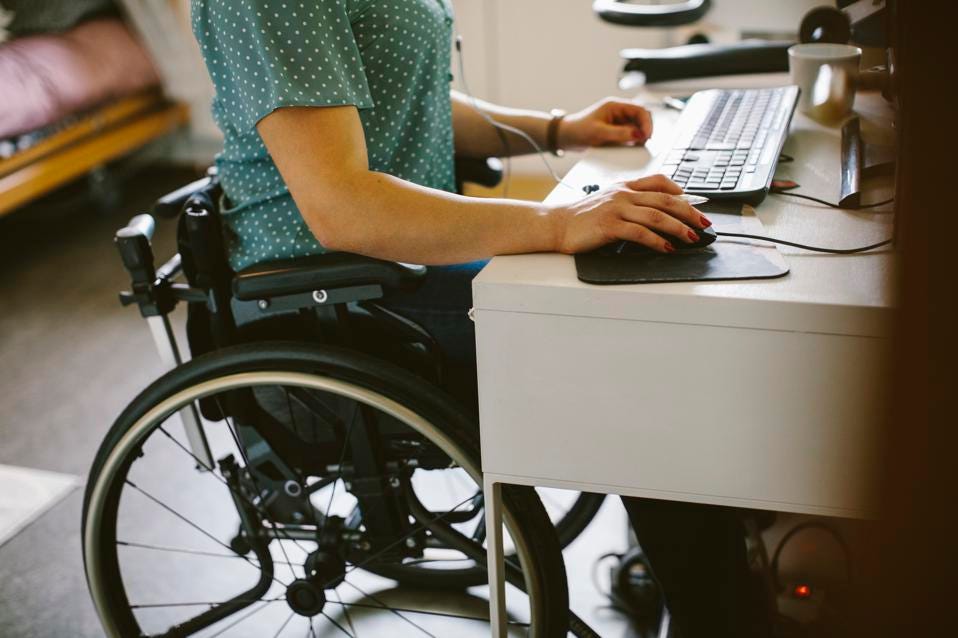 In 2017, Section 508's technical requirements were updated to incorporate the Web Content Accessibility Guidelines (WCAG). Published by the World Wide Web Consortium (W3C), WCAG has become one of the most influential sets of guidelines pertaining to web accessibility. WCAG also includes instructions on how to configure other ICT (such as online documents and videos) so that it is accessible to people with disabilities.
There are three different levels in which you can conform to WCAG: Level A, Level AA, and Level AAA.
Level A is the most elementary form of conformance, while Level AA is the conformance level referenced in many accessibility rules and regulations around the world.
Level AAA is the most advanced and the hardest to reach.
To comply with Section 508, you must conform to WCAG 2.0 Level AA.
To make sure that your website and other information and communication technology (ICT) conforms to WCAG at this level, you can follow the checklist below.
Section 508 compliance and VPATs
As part of achieving Section 508 compliance, you are also required to complete a Voluntary Product Accessibility Template, also known as a VPAT. A VPAT discloses the accessibility level of your website and other ICT, and how it conforms to relevant accessibility standards. In this case, that standard is WCAG 2.0 Level AA.
It is important to keep your VPAT up to date. If you make significant changes to your product, you need to fill in a new VPAT.
Organizations most commonly fill out a VPAT after they've reached Section 508 compliance. However, you can also fill in a VPAT while testing your website and ICT for Section 508 compliance, as this can help identify elements that aren't compliant.
You can fill in a VPAT yourself. However, this requires in-depth knowledge of WCAG and other accessibility requirements. Many organizations turn to expert service providers, such as accessServices, to test their website and fill in a VPAT for them.
Click here to learn more about accessServices and how it can help you fill in a VPAT.
How to test a website for Section 508 compliance?
You can manually review your website's level of conformance with WCAG 2.0 Level AA. To that end, feel free to use the checklist in the next section.
Alternatively, you can use an automated website accessibility checker, like accessScan, to quickly find out if your website is Section 508-compliant.
Once you submit your website's URL, accessScan runs a quick, automated audit of it, checking for conformance with WCAG. Once the audit is complete, you will then be presented with a score (compliant, semi-compliant, or non-compliant) along with a list detailing your website's level of compliance on a more granular level. If any accessibility gaps exist, you will be notified of them and be given short, easy instructions to remedy them.
Click here to use accessScan and find out if your website is Section 508-compliant.
It's important to note that many organizations rely on expert services, such as accessServices, to thoroughly audit their website and remediate compliance issues.
Section 508 compliance checklist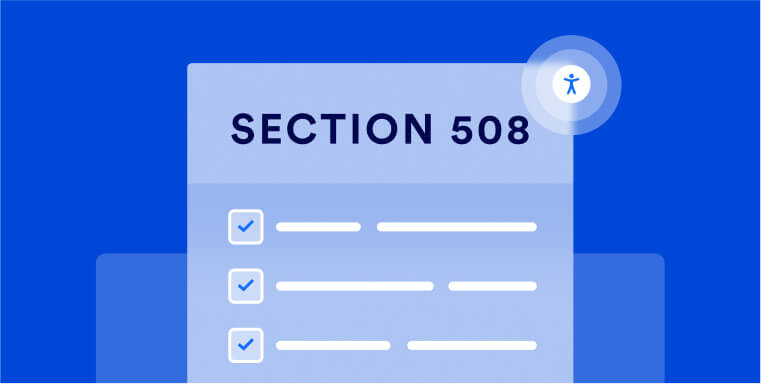 The checklist below is a simplified, condensed set of action items you will need to address in order to achieve Section 508 compliance. You can download a PDF version of this checklist by clicking here.
It is worth noting that while this is a useful resource, it is only a quick summary of requirements and not a complete list.
Therefore, it's always a good idea to cross-check compliance checklists with the official requirements of Section 508.
That said, here's what you will need to do to conform to WCAG 2.0 Level AA, and comply with Section 508:
Provide text alternatives for non-text content
Non-text content, such as audio files, images, or videos, isn't accessible to some website visitors. Provide text alternatives for non-text content so it can be conveyed by assistive technologies, like screen readers. For example, add alt text to meaningful images (i.e., images that convey information and aren't there just for decorative purposes)
Provide an alternative to video-only and audio-only content
Provide transcripts for audio-only content, such as podcasts. Video-only content should have an audio description
Provide captions for videos with audio
Video content with audio isn't accessible for website visitors who are deaf or hard of hearing. Make sure that videos with audio have accurate captions that are synchronized and clearly identify speakers
Ensure a high contrast between text sections and their backgrounds
If your website has content without proper contrast, people with color blindness, low vision, or other vision impairments may not be able to easily read and navigate it. Ensure proper contrast between text (or images of text) and its background, with a contrast ratio of at least 4.5:1. When using bold or large text (18pt or larger), a 3:1 contrast ratio is sufficient. Contrast restrictions do not apply to logos and brand names
Define a web page's language
The language of a web page should always be clear to assistive technologies. This can be indicated with the lang attribute on the HTML element
Ensure all website functionality is operable via keyboard
Some people with disabilities cannot use a mouse to navigate content and operate interactive elements, and rely on their keyboard, instead. For that reason, ensure that all website functionality is operable via a keyboard
When visitors are met with time limitations within your website, ensure the time limit can be adjusted
Certain areas of your website may require visitors to complete tasks within a defined period of time. These include interactive tasks, such as filling in a form, or more passive tasks, like reading content on a web page. To that end, you should minimize the amount of content that features timed interactions. When these time-outs are necessary, ensure they are only enacted with a website visitor's acknowledgment. With certain exceptions (e.g., submitting a bid during an online auction), people should be able to request more time, and deactivate and adjust any time-out settings, without loss of data

Minimize distractions and allow website visitors to turn off or postpone interruptions
Non-static website content prevents some people from focusing on a web page. This can be a severe distraction. Allow website visitors to pause, stop, or hide any moving, blinking, scrolling, or auto-updating elements. Examples include animations and scrolling stock tickers. People should also be able to postpone or suppress interruptions, updates, and alerts on your website, except in an emergency
Ensure your website has no flashing content that can induce seizures
Flashing content, such as fast-strobing lights, can induce seizures, so it's important to avoid designing this type of content. WCAG states that web pages should not contain anything that flashes more than three times in one second. Warnings about flashing content are often missed, so these are not sufficient
Ensure that any single character key shortcuts are adjustable
Shortcuts that use a single character key (e.g., a letter) can cause problems for Speech Input users, who can unintentionally trigger them. If you incorporate these in your website, either add a modifier key to the shortcut (e.g., Ctrl, Alt), or provide a way to turn them off or change them
Provide a "Skip to Content" link
With a "Skip to Content" link, your website visitors can skip over the header and navigation menu, and reach the main content area. Without this link, people who rely on keyboard navigation often need to tab through the same long list of links and other elements on every web page, before arriving at the main content area
Ensure that if a website visitor commits an error, the error is identified and described in text, and announced by screen readers
Simply coloring a field red is not enough to communicate an error, especially for website visitors who are blind or have low vision. Make sure to clearly identify which field has the error, what the error is, and how to fix it. Additionally, appropriate markup and focus management must be used to ensure that screen readers will announce this information. This way, all users will be aware of the error
Ensure that labels and instructions are descriptive and clear for all website visitors
Buttons, search boxes, and any other interactive elements should be clearly labeled
Ensure that your website has a clear and concise heading structure
Headings should be clear and concise, and organized hierarchically. With clear headings, you help all website visitors quickly understand what information is contained on the web page, how it's organized, and how to navigate it
Ensure that content placement and functionality is predictable
Be sure that website visitors can easily find content and determine where they are on a given web page. You can achieve this with predictable content placement and functionality. Also, make sure that menus and frequently-used components, such as icons and links, appear and behave consistently
Ensure page titles are clear and helpful
Use clear and helpful page titles to make it easier for readers to navigate your website. This is especially important for people who rely on assistive technology
Ensure that functionality requiring gestures can be performed by website visitors with limited mobility
Some website visitors may not be able to perform gestures that require two fingers (e.g., pinching or two-finger tapping), or that require moving the pointer in a path more complex than a straight line (e.g., drawing a circle). Ensure that all functionality on your website can be performed without these types of motions
Ensure that all links have text that accurately conveys the purpose of the link
It's important to use descriptive text to allow a website visitor to distinguish one link from others appearing on the same web page (and determine whether to follow it). The URL of the destination is generally not descriptive enough. When an image is the only content of a link, the alt text for the image can be sufficient to describe its purpose
Ensure that electronic documents are accessible and can be read by assistive technologies
Online documents, such as PDFs and Microsoft Office files (e.g., Word documents), aren't always accessible to the disability community. However, according to Section 508, they need to be. Where possible, offer alternative accessible formats such as HTML, accessible audio formats, and transcripts of visual and audio media
How to check if your online documents are Section 508-compliant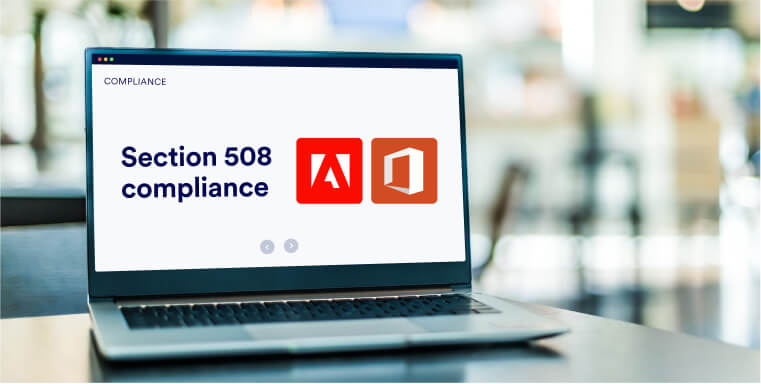 Section 508 doesn't just apply to websites. Online documents, such as PDFs and Microsoft Office files (such as Word documents), all need to be configured so that they can be accessed by people with disabilities.
The process of configuring an existing online document so that it is accessible is called document remediation. When you remediate an online document, you tag the digital elements inside of it (including images, headings, links, lists, and tables) so that they can be read using assistive technology.
To test whether a PDF document is accessible, you can use the "Accessibility Full Check" function in Adobe Acrobat Pro. Similarly, Microsoft Word, PowerPoint, and Excel have built-in accessibility checkers.
Document remediation is a mostly manual endeavor, and can prove difficult, expensive, and time-consuming for many organizations. This is especially true when there is a large volume of documents that need to be remediated. You can opt to outsource these projects to expert service providers, such as accessServices. With intimate knowledge of the sections of WCAG that apply to document remediation, these experts ensure your PDFs, Word documents, Excel workbooks, and other online documents meet the highest standards of compliance.
Click here to learn how accessServices can help you streamline your document remediation efforts.
Key takeaways

Federal agencies, organizations that receive federal financial assistance, and service providers to said organizations all must comply with Section 508. Feel free to use this checklist to ensure your website and other electronic and information technology are accessible to everyone.
You can download a condensed version of the checklist appearing above by clicking here.
This checklist has no legal bearing, and cannot be relied on in the case of litigation.