We're proud to announce our entirely new dashboard for customers and partners! With new features and updated designs, our new dashboard organizes and streamlines everything you need to add websites, customize the solution, onboard clients, and more!
You may also notice that the entire website got a whole new makeover! In addition to the updated design and new visuals, we've added and organized information to make it more simple to consume and understand.
Are you an accessiBe Partner or want to learn more about what accessiBe Partners have access to? Scroll down to the last section to see what the new dashboard has to offer our Partners!
Here's what's new:
Manage website actions and statuses, all in one place
See and manage all of the websites in your account, including free trial websites and paid licenses. You can easily perform new batch management options and see your websites' plan status so that you can keep track of your websites.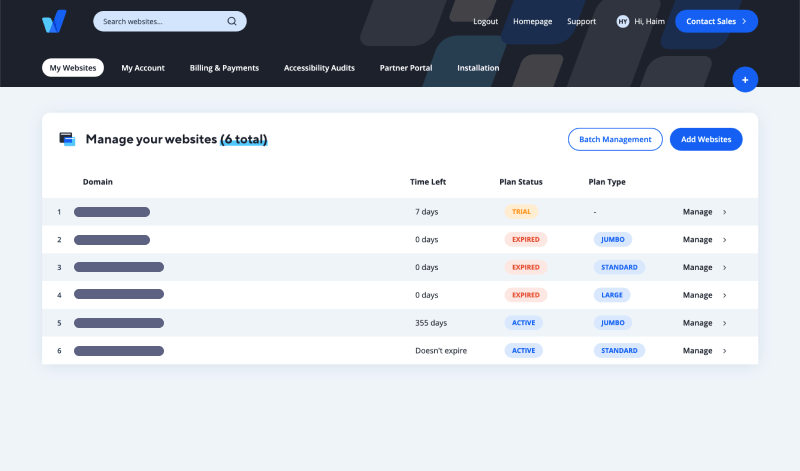 Extended team access for account management
To enable better web accessibility teamwork, you can now add team members to your account and designate their user actions from billing, editing information, making payments, adding websites, and more.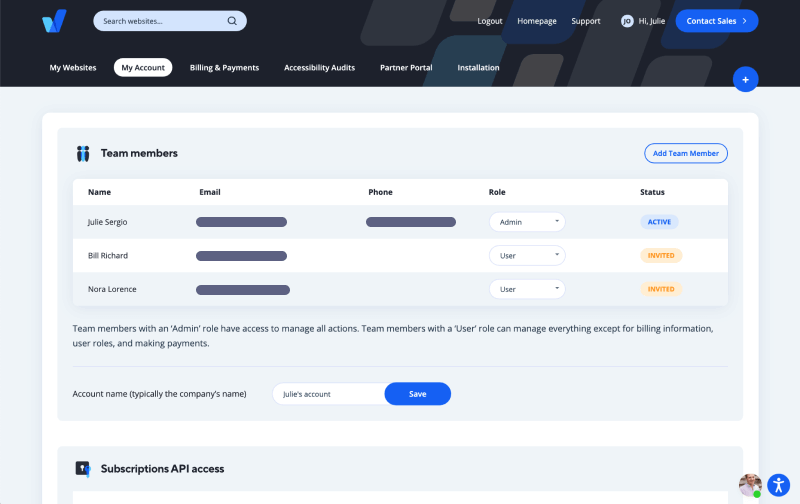 Flexible billing methods, for one or multiple licenses
Making your website accessible is a business decision to make it inclusive, open to everyone, and compliant with legislation. That's why we've updated our billing method to fit in with different business models by enabling multiple billing methods under one account. This allows you to be billed on various credit cards for different websites.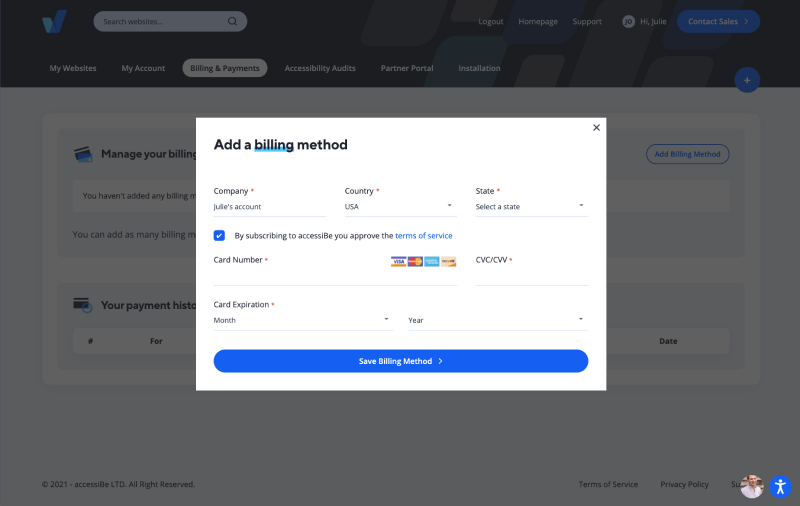 Keep track of your accessibility audits, for ongoing peace of mind
If you haven't already seen aCe, accessiBe's free and automatic ADA compliance testing tool, now you have a dedicated window right in your account! Here you'll see the entire history of accessibility audits, which are easily downloadable and shareable with your team. Auditing your websites, free trials, and paid licenses alike, and keeping track of the audits, is a great way for you to view ongoing ADA maintenance of all of your websites.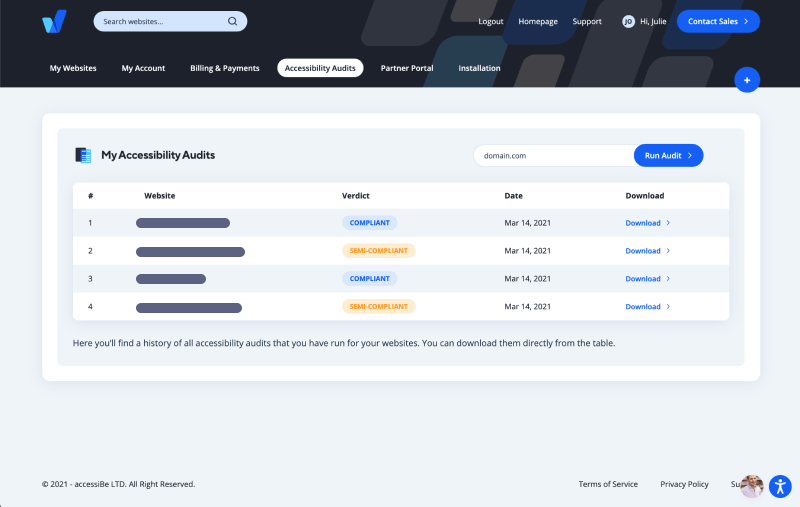 See how customizable options look before implementation
Since accessiBe is built to fit in with your website, we've always made sure to offer multiple customizable options so that you can make it look like your website's look and feel. Now you can choose customization options and see how they will look before implementing the solution. This way, you can know accessiBe will fit in perfectly with your website's design and branding.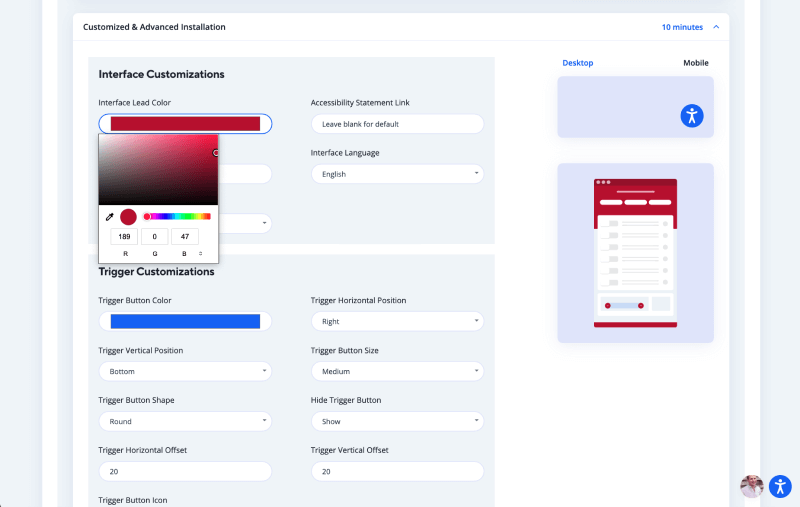 Partners! Check out your new exclusive Partner Portal
accessiBe Partners now have an exclusive Partner Portal with everything you need, from onboarding clients to collect a commission. All in one place, all at your fingertips.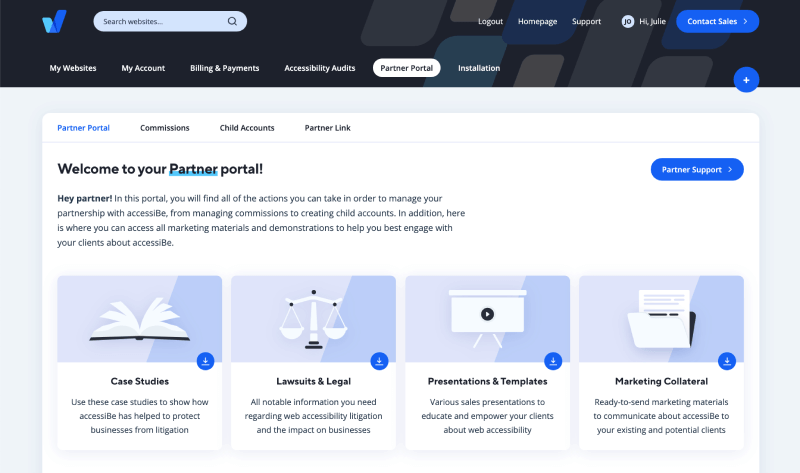 Thorough and effective resources and marketing collateral to easily educate clients as well as communicate accessiBe's features and value. Download materials at any time!
Commissions dashboard to view and release your partner commissions all in one place
Add, manage, and view all of your child accounts in one window for more efficient client onboarding
Your partner link for lead referral and tracking is can now be more easily located within the Portal
To learn more about how to use any of our dashboard features and actions, please visit our support knowledgebase.