The information presented within this guide is aimed at website owners seeking to learn the ropes of web accessibility. Technical elements are described in layman's terms, and, as a rule, all topics pertaining to the legalities of web accessibility are presented in as simplified a manner as possible. This guide has no legal bearing, and cannot be relied on in the case of litigation.
As part of your efforts to comply with Section 508, you will need to tweak ‌and adjust your website so that it can be accessed by people with disabilities.
To achieve full compliance, you need to ensure that videos appearing on your website are accessible, as well.
But what does this entail?
What boxes will need to be ticked for your online videos to be Section 508-compliant?
In this blog post, we'll show you what you need to know about Section 508 compliance for videos, and provide you with actionable tips to make your videos accessible to people with disabilities.
Section 508 compliance for videos: an overview
Section 508 of the Rehabilitation Act requires that federal and government-run organizations, organizations that receive federal funding, and service providers to these organizations procure, create, use, and maintain information and communication technology (ICT) that is accessible to people with disabilities.
Information and communication technology (ICT) includes (but isn't limited to) websites and all the elements appearing within them, including videos.
A 2017 update to Section 508 saw the Web Content Accessibility Guidelines (WCAG) 2.0 formally adopted as the standard for web accessibility compliance. Created by the World Wide Web Consortium (W3C), WCAG is a global standard for creating digital content that is accessible to people with disabilities.
There are three different levels at which you can conform to WCAG: Level A, AA, and AAA.
Level A is the most elementary form of conformance, while Level AA is the conformance level referenced in many accessibility rules and regulations around the world. Level AAA is the most advanced level of conformance and the hardest to reach.
Under Section 508, websites and online videos must adhere to WCAG 2.0 Level AA.
What makes a video Section 508-compliant?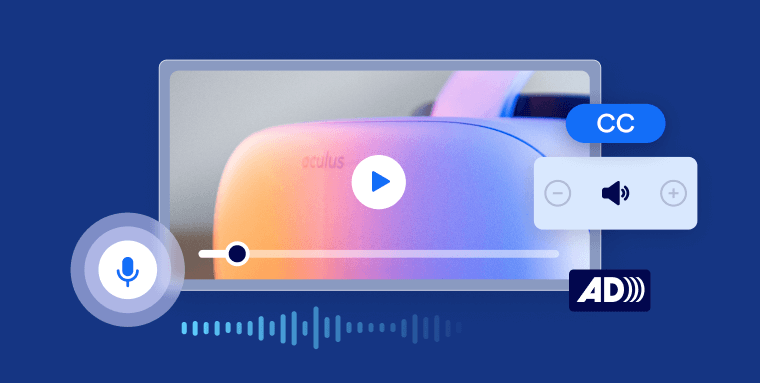 A video is Section 508-compliant when people with disabilities can activate, navigate, and understand it. To meet the widest range of user needs, and to conform to the sections of WCAG 2.0 Level AA that apply to videos, a Section 508-compliant video will incorporate the following elements:
Captions
Audio description
A transcript
Sufficient color contrast between text and its background
A video player that supports accessibility
Let's dig into each of these separately:
Captioning
Captions are text versions of the audio incorporated in a video. They allow viewers who are deaf or hard of hearing to understand the content being conveyed. To make a video accessible, captions should include both speech and important non-speech audio.
Most captions are "closed captions" that can be hidden or displayed, depending on a viewer's preference. They can also be "open captions" that are always displayed and cannot be turned off. Either way, captions should be accurate, complete, and synced to the audio.
Automatically-generated captions, such as those offered by YouTube, are insufficient for user needs or accessibility requirements unless they are confirmed to be fully accurate. Often, these captions require significant editing.
It's important to note that under WCAG 2.0 Level AA (the legal standard for Section 508 compliance), captions are required for both pre-recorded video and live video. When it comes to live video, Section 508 requires captions for broadcast media (such as a video stream of a live presentation) but not for two-way communications (such as a Zoom call).
Voice recognition software can help create captions for live videos. For example, Google Slides and Microsoft PowerPoint both offer built-in features to present slides with automated captions.
Audio description
With an audio description, the visual information of a video is relayed to people who are blind or have vision impairments. Audio descriptions need to be added to pre-recorded videos to meet WCAG 2.0 Level AA, and are therefore required under Section 508.
When creating an audio description, think of how you would describe the video to someone who cannot see it. Your description should include actions, costumes, settings, and scene changes that occur within the video.
You can follow these additional best practices when creating an audio description for a video:
Describe what the video is communicating objectively and without interpretation, censorship, or comment
Use the present tense, active voice, and third-person narrative style
Avoid describing insignificant details or elements within the video
​​Descriptions should be recorded with a neutral voice, style, and delivery that is easy to distinguish from other voices in the video
Audio descriptions should be inserted where there are natural gaps in the spoken audio.
If the gaps are too short, then an extended audio description is needed. You will need to ensure the video's natural audio element pauses so that there is enough time for the description to convey the necessary information
For more advice on creating your own video audio descriptions, you can read this guide.
Transcripts
Descriptive transcripts provide a text version of the audio and visual information presented within a video. When you provide transcripts, you make your videos more accessible for people who are deaf or hard of hearing, people who are blind or with low vision, and people who are deaf-blind.
Given that you will need to create the aforementioned captions and audio descriptions in your efforts to achieve Section 508 compliance, it is usually easy and inexpensive to generate descriptive transcripts based on both of these assets.
It is usually best to include the transcript at the end of the same web page the video is featured on. For media hosted elsewhere, you can include the transcript on a separate web page and link to this in the video description. Most transcripts are provided in HTML format.
Keyboard accessibility
Viewers who are unable to use a mouse can access videos if they are compatible with keyboard commands. To achieve this, you can host your videos on an accessible media player that has a user interface that works without a mouse.
Media players should also make the keyboard focus indicator visible. This means that anyone who relies on a keyboard to operate a web page can visually determine the component that they are currently interacting with.
Color contrast
If video captions and their background do not have adequate contrast, the video they appear on may be inaccessible to people with low vision or color blindness. WCAG requires normal text to have a contrast ratio of at least 4.5:1. For large scale text (over 18 point) or bold text (over 14 point), there must be a contrast ratio of at least 3:1.
With sufficient contrast, you make your videos' captions (and any other text appearing in them) as readable as possible for all viewers.
What about video players?
The video player you choose affects how accessible your video content is. Therefore, it's important to understand whether your video player complies with Section 508, and know what you need to do if it doesn't.
Despite their immense pervasiveness, simple YouTube videos are not compliant with Section 508 by default. Even though YouTube provides auto-generated captions for videos, these are insufficient, according to WCAG. Therefore, if you rely on YouTube embeds to showcase videos on your website, you will need to review the generated captions and ensure they are complete and in conformance with WCAG.
Certain video hosting platforms, such as Wistia, offer built-in accessibility features that are designed to be WCAG and Section 508-compliant. This includes an accessibility checklist that is prompted when uploading videos. A Wistia video player is also fully functional with just a keyboard. Another accessible media player with keyboard-friendly controls is Able Player, a free, open-source HTML player created by University of Washington Technology Accessibility Specialist Terrill Thompson.
The importance of Section 508 video compliance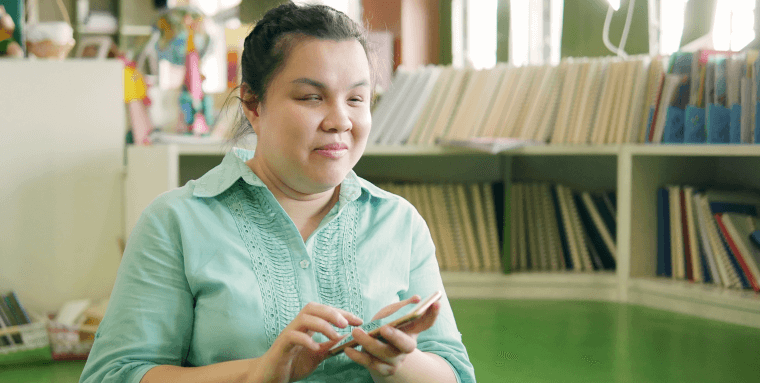 An estimated ​​1.3 billion people worldwide have a disability. For many of these people, videos in their basic form are partially or completely inaccessible.
Videos that lack captions cannot be understood by people who are deaf or have a hearing impairment. A lack of captions can also limit the ability of people with intellectual and developmental disabilities to properly comprehend videos. Similarly, videos that convey information exclusively through visuals cannot be understood by people who are blind or have vision impairments.
To create a truly welcoming online environment, website owners will need to ensure their videos account for the needs of all potential viewers.
It is important to note that accessible videos appeal to audience members outside of the disability community, as well. Captions make it possible to watch videos in noisy environments or while muted. The latter viewing method is especially popular among younger viewers.
Accessible videos are also likely to have Search Engine Optimization (SEO) advantages. With captions and transcripts, Google can understand and index video content more effectively, thus leading to improved rankings on search engines.
The legal consequences of presenting non-compliant videos
Not complying with Section 508 (if it applies to your organization) can result in lawsuits, as well as loss of business, and potential reputational damage.
One prominent example of a lawsuit involving Section 508 compliance is the National Association of the Deaf (NAD) filing lawsuits against Harvard University and MIT in 2015. In its lawsuits, the NAD claimed that these universities were not providing accurate and comprehensive captioning for online course materials. After reaching a settlement in 2019, Howard A. Rosenblum, NAD's chief executive officer, said in a press release that "captioning video content is a basic form of access that opens up academic learning to not only deaf and hard of hearing people - but the world."
How to test your videos for accessibility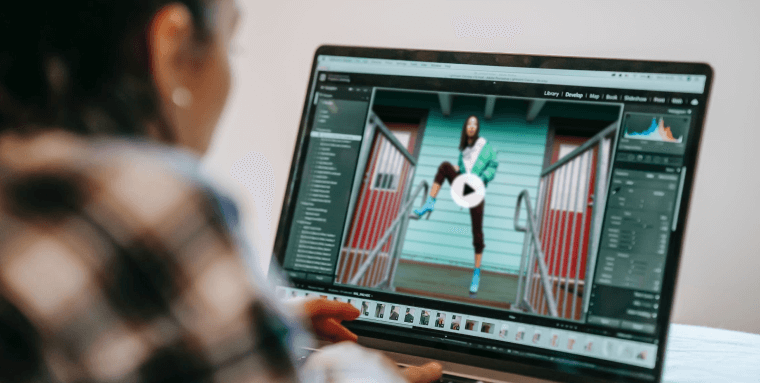 Testing videos for accessibility is a manual endeavor. It includes checking that your video player is accessible, and that all relevant WCAG success criteria are achieved. This can be time consuming, especially when there are a lot of videos that need to be tested. Outsourcing the project to an expert service provider, such as accessServices, can often prove to be a more efficient option.
The testing and remediation process involves a first round of adjustments, followed by an expert review of compliance gaps. Once these gaps are identified, accessServices will carry out the necessary changes (e.g., providing transcripts, audio descriptions, and/or accurate captions) to ensure your videos comply with Section 508.
Click here to learn how accessServices can help ensure your videos are Section 508-compliant.
An example of a Section 508-compliant video
As mentioned above, a video that complies with Section 508 will incorporate several elements, such as transcripts, keyboard accessibility, captioning, and sufficient color contrast.
But what does a video like that actually look like? Here's a prime example:
This video showcases a group of people with disabilities who are achieving incredible things, such as winning gold medals in the Paralympics and performing on Broadway.
The video's important message is conveyed in a way that can be accessed by everyone.
Captions have been added to the video itself, so they appear even on platforms that lack closed captioning functionality. The letters appear in white over a black strip which is maintained throughout the video. This contrast allows for optimal visibility.
There's a transcript of the video in the description, and a time-stamped version is available in the video's settings. For people who do not use a mouse, the video is accessible using keyboard commands.
Finally, the background music is low enough so that it is easy to follow the sequences incorporating spoken word.
Key takeaways
Organizations that must comply with Section 508 need to ensure that their online videos are accessible to everyone, including people with disabilities. Following the sections of WCAG that apply to videos will provide the disability community with the equal user experience it deserves, and protect your organization from facing legal recourse.
Make sure you are adding captions, audio descriptions, transcripts, and ensuring sufficient color contrast within your videos. Finally, pay attention to the video player you are using to showcase videos. You may need to tweak certain settings to ensure people with disabilities can operate and access them.