The information presented within this guide is aimed at website owners seeking to learn the ropes of web accessibility. Technical elements are described in layman's terms, and, as a rule, all topics pertaining to the legalities of web accessibility are presented in as simplified a manner as possible. This guide has no legal bearing, and cannot be relied on in the case of litigation.
Section 508 of the Rehabilitation Act is one of the most important pieces of legislation protecting the disability community from discrimination when engaging with digital environments.
Under this law, U.S. federal agencies and institutions receiving federal funding, along with service providers to such organizations, must ensure that their electronic and information technology, including websites and online documents, can be accessed by everyone, regardless of ability.
But what does that mean exactly?
What must you do to your online documents to ensure they fully comply with Section 508?
In this blog, we will cover the areas you will need to address in your digital documents so that they can be accessed by people with disabilities under Section 508. We will show you how you can test your PDFs and Microsoft Office applications for compliance, and explain how you should address compliance issues existing within your online documents.
Section 508 of the Rehabilitation Act: an overview
A key part of the Rehabilitation Act of 1973, Section 508 was enacted to ensure that members of the disability community have equal access to information and communication technology (ICT) developed, procured, maintained, or used by the federal government.
In its original form, Section 508 did not include instructions pertaining to web accessibility. However, in 2017, an amendment was made to the law that expands its application to a variety of new information and communication technology, including websites and web-based applications, such as online documents.
Today, Section 508 requires all federal agencies, organizations that accept federal funding, and service providers to such organizations to ensure that their online documents and other ICT can be accessed by everyone, including people with disabilities.
WCAG as the standard for Section 508 compliance
Section 508 refers to the Web Content Accessibility Guidelines (WCAG) 2.0 Level AA as its standard for compliance for web-based content. Created by the World Wide Web Consortium (W3C), WCAG is considered by many to be the most influential set of standards impacting global web accessibility policy today, and includes instructions that apply to digital documents.
We will explain what must be done to an online document for it to conform with WCAG 2.0 Level AA later in the blog.
If you're unsure whether your website conforms to WCAG 2.0 Level AA, you might also want to check out our Section 508 compliance checklist.
Section 508 compliance for online documents: a deep dive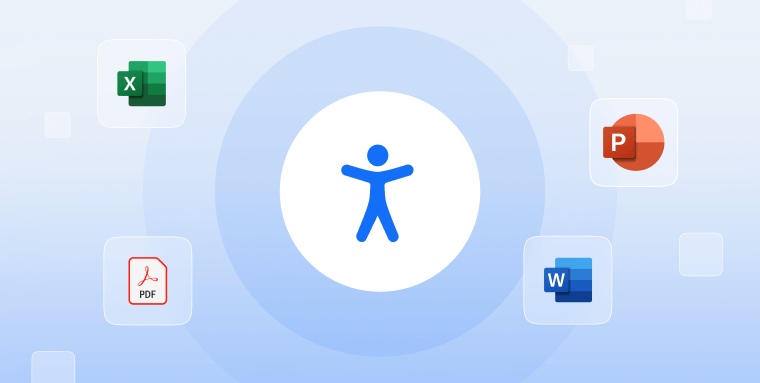 Unlike some laws that apply to web accessibility, Section 508 clearly defines what must be done to online documents (and websites) in order to achieve compliance.
Under Section 508, WCAG 2.0 Level AA is the standard to which online documents (and websites) need to conform.
WCAG 2.0 Level AA includes a number of technical and design-based requirements that apply to a variety of website elements, including, but not limited to, text, video content, and graphics, which must be made to be compatible with assistive technology.
Many of these sections (or success criteria) apply to online documents, such as PDFs, and Microsoft Office files, such as PowerPoint presentations and Excel documents.
It's important to note that much of your efforts to ensure your online documents are Section 508-compliant will revolve around optimizing and making them compatible with screen reader tools, like NVDA and JAWS.
Screen readers are mainly used by people with vision impairments to access and understand digital content, such as websites and online documents. These tools will scan a PDF or PowerPoint presentation and read its content aloud to users. For screen readers to be able to do this, however, certain elements within your online document must be in place. We will cover them next.
What are the most important elements of a Section 508-compliant online document?
The following elements need to be in place for an online document to conform to WCAG 2.0 Level AA:

Proper tagging
Tagging and labeling are two ways to add descriptive information relating to different elements appearing within online documents.
Proper tagging is both essential for making online documents accessible to people who use assistive technologies, such as screen readers. These tools rely on tags to accurately read and describe the content of online documents to users.
You can manually add tags when using specific platforms. With Adobe Acrobat Pro, for example, you can open the Tags panel, click on the options menu, and select "Add Tags to Document" or "Autotag document." Adobe Acrobat will automatically generate tags for the document, which you can edit if you feel they aren't sufficiently accurate.
If your PDF features fillable forms, it is critical you tag them accurately, and include clear instructions on how to complete them.

Text alternatives for meaningful images
Alt text is the text-based description of an image appearing within an online document. Assistive technologies read the alt text aloud to users, allowing them to understand the content of the image. If alt text is missing, or if it improperly or insufficiently describes an image, people who rely on assistive technologies will miss out on critical information
Alt text needs to be added to all meaningful images. Meaningful images are the kind that provide critical, important information. Images that appear purely for decorative reasons must be hidden from assistive technologies.

Proper headings
Headings and subheadings help organize content appearing within an online document and make it easier to navigate a website. Clear headings also help screen reader users quickly scan the content and understand what each section is about, without necessarily reading the entire document. They can then go back and access sections appearing under headings that are relevant to them. Additionally, it's important to use actual heading tags (e.g., <H1>, <H2>, <H3>) instead of simply increasing the font size.

Proper navigation
An online document should feature clear and consistent navigation. A clickable table of contents allows people to easily skip to sections within an online document they find relevant or interesting.

Sufficient color contrast between text and its background
Using highly-contrasting colors ensures text is sufficiently distinguishable from its background. This allows people with color blindness and other vision impairments to be able to read and comprehend text appearing within the document.

Captions on videos
If an online document has a video embedded within it, it will need to feature captions. These will allow people with vision impairments to understand the information conveyed by the video.

It is important to note that many of these elements (specifically adding tags and labels) allow for people to navigate your PDFs and online documents using their keyboard. Ensuring documents can be navigated exclusively via a keyboard is required under WCAG 2.0 Level AA.
How do you check if your online document is Section 508-compliant?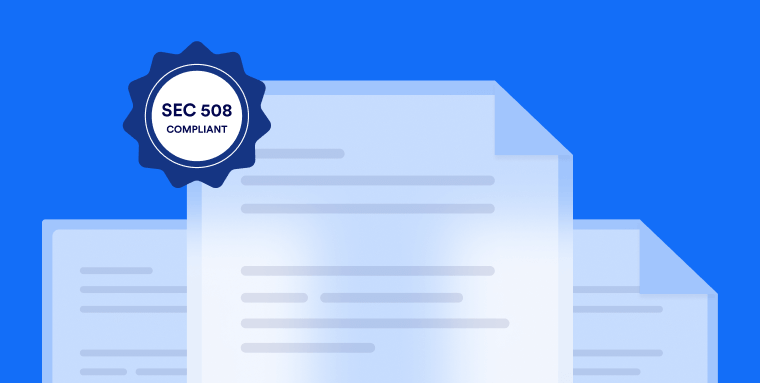 To check whether your online document is accessible, you can rely on accessibility checker features. Adobe Acrobat and Microsoft Office have built-in accessibility checkers that can identify accessibility issues and suggest ways to remediate them.
Here's how you can run an accessibility test on a few of the most prominent online document platforms:
Testing PDFs for Section 508 compliance in Adobe Acrobat
Adobe Acrobat scans for common missing accessibility elements. To use Adobe Acrobat's accessibility checker:
Open the document you want to test for accessibility issues
Go to Tools and select Accessibility
Click Full Check/Accessibility Check
Select options for how you want to view the results under Report Options
Select the desired Checking Options
Click Start Checking
Results can be viewed in the Accessibility Checker and Accessibility Report panes.
Testing online documents for Section 508 compliance in Microsoft Office
Using the accessibility checker in Microsoft Office applications (e.g., Word and PowerPoint) is similar to Adobe Acrobat:
Click Review on the ribbon of the Microsoft 365 app
Click Check Accessibility
Review issues in the Accessibility pane
Apply recommended actions to quickly resolve warnings and errors

It is important to note that these apps can be relied on to identify some accessibility issues. However, they cannot be relied on to identify all issues.
How to remediate an online document so that it is Section 508-compliant
The process of adjusting accessibility issues within an existing online document so that it conforms to WCAG is called online document remediation. This process is composed of two steps:
Testing for compliance issues: An online document needs to be thoroughly examined to ensure it incorporates the necessary elements detailed above, such as proper tagging
Remediating the compliance issues found during the audit: If the test results show that any tags or alt text are absent from the document, they will need to be added to them. Just as importantly, if these elements have been applied incorrectly, they will need to be readjusted so that they align with WCAG requirements
This process can prove challenging, time-consuming, and costly, especially when dealing with complex, lengthy online documents.
This leads many organizations to turn to expert service providers, such as accessServices, to help them audit and remediate their online documents for them.
With an intimate familiarity with the WCAG sections applying to online documents, these experts can be relied on to thoroughly audit online documents, and then remediate them in a more complete fashion. This can prove very beneficial with larger, complex online documents, as expert service providers are better equipped to handle more serious remediation projects.
Click here to see how accessServices can help streamline your online document remediation process.
The importance of ensuring your documents are Section 508-compliant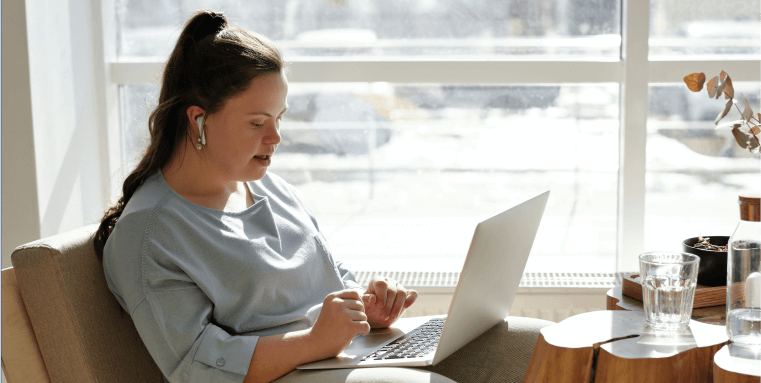 Enabling equal access to your digital documents is a moral imperative. People with disabilities deserve to be able to access vital information appearing within them, just like everyone else. This is especially true in regards to public organizations (or those seeking to collaborate with such organizations), as they are rightfully expected to treat the disability community fairly.
Additionally, accessible design principles (that apply equally to digital documents), such as clear and concise language, intuitive navigation, and a simple layout, make PDFs and other digital documents easier to use and understand for everyone, including people outside of the disability community.
Finally, it is worth noting that agencies, institutions, and service providers that need to comply with Section 508 but fail to do so actively discriminate against the disability community. Such a violation can result in legal action, including potential lawsuits.
Key takeaways
Achieving Section 508 compliance requires that you present online documents that can be accessed by everyone, including people with disabilities. To comply with the law, you will need to ensure your PDFs, Microsoft Office documents, and other online documents feature specific elements that will allow people with different disabilities to properly navigate and understand them.
While many platforms offer built-in accessibility testing features, they will not flag all compliance issues existing within a document. Many organizations turn to expert service providers, such as accessServices, to thoroughly audit their online documents for them, and then remediate the compliance issues, if any exist.