The information presented within this guide is aimed at website owners seeking to learn the ropes of web accessibility. Technical elements are described in layman's terms, and, as a rule, all topics pertaining to the legalities of web accessibility are presented in as simplified a manner as possible. This guide has no legal bearing, and cannot be relied on in the case of litigation.
The general population's reliance on banks has surged in recent years.
81% of American adults were reported to have a bank account in 2021, up a whole 10% compared to 2015.
Yet, full and equal access to banks is not often available to a group that makes up a quarter of the American adult population:
People with disabilities.
Due to insufficient accommodation to their needs and an overall lack of empathy and attention paid to their unique conditions, many in the disability community still feel unwelcome at banks.
This reality becomes even more problematic when considering the enhanced role online banking has assumed in modern life.
85% of the United States population prefers engaging with banks online (including via app), rather than showing up in person to a bank branch, or having to call a bank teller or customer service provider. However, many bank websites are fully or partially inaccessible to members of the disability community.
To combat these discriminatory realities, banks need to comply with the Americans with Disabilities Act (ADA) and ensure the disability community is treated equally in both their physical locations and while engaging with their websites and apps.
In this blog, we'll discuss what banks must do to ensure that they comply with the ADA to the fullest extent of the law. We will examine what modifications banks must make to their policies and physical locations, and explain their responsibilities towards employees with disabilities. We will also show what banks need to do to ensure their websites are accessible to the disability community.
ADA compliance for banks: an overview
The Americans with Disabilities Act (ADA) is a federal law prohibiting discrimination against people with disabilities in many different aspects of daily life. Passed in 1990, the ADA has been amended several times to strengthen its protections of the disability community.
Under ADA Title III, businesses classified as "public accommodations" must ensure that they are fully accessible to everyone, regardless of ability. These include (but aren't limited to) hospitals, real estate agencies, retail stores, colleges, many small businesses, and, of course, banks. Under ADA Title III, banks must remove physical barriers that prevent customers with disabilities from accessing services. This includes, but isn't limited to:
Ensuring accessible entrances and exits
Making sure aisles and pathways are wide enough for wheelchairs
Adding grab bars, widening doorways, and lowering sinks in bathrooms
Providing teller service counters that are at compliant heights, along with easy-to-use ATMs that offer sufficient space for those with wheelchairs to approach and reach them
Providing an accessible website
Additionally, under the ADA, banks need to make reasonable accommodations for employees with disabilities so that they can properly perform their duties. This includes, but isn't limited to, restructuring jobs, offering flexible work schedules, and modifying the workplace.
We'll discuss both responsibilities in further detail later in the blog. You can click here to skip straight to that section.
ADA compliance for banks' websites
U.S. courts today apply the ADA to businesses' online domains. This means that if a bank has an online presence, such as an app and/or website, it needs to be accessible to people with disabilities.
The Department of Justice (DOJ) has referenced specific web accessibility guidelines, called the Web Content Accessibility Guidelines (WCAG), that banks (and other businesses) should follow to ensure their websites and apps can be accessed by people with disabilities. While nothing is codified into law, many U.S. courts now require businesses that were sued for ADA website compliance violations to meet WCAG standards.
We will explain this topic in greater detail later in the blog. You can click here to skip to that section now.
The importance of ADA compliance for banks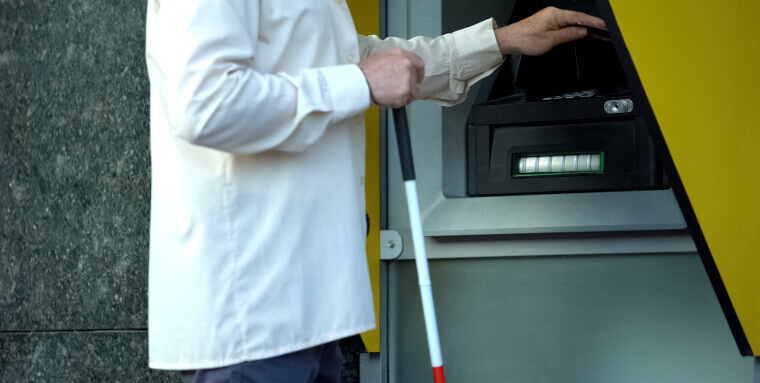 Access to banks is an essential part of everyday life, and it is a moral imperative that members of the disability community be treated equally when they enter and engage with them. Too often, however, people with disabilities receive unjust treatment when visiting and engaging with their bank.
A study conducted in 2022 examined how people with disabilities felt when engaging with banks. Its findings were alarming:
More than one-third of people with disabilities responding to the survey reported feeling unwelcome when they visited their bank branch. The study also found that 52% of people with mobility disabilities reported issues with the physical accessibility of bank branches. At the same time, 53% of respondents who were deaf often had difficulty communicating with bank personnel because there was no available language interpreter.
Complying with the ADA goes a long way in remedying this unjust reality.
It is worth noting that the disability community's spending power is immense. Providing people with disabilities with an equal consumer experience will likely see them considering your bank as the optimal place to safeguard their finances.
Finally, complying with the ADA shows that you value accessibility and inclusivity on a principled level. Such public sentiments can positively impact your brand and reputation. Given that banks operate within an industry that isn't always viewed very positively by the American public, complying with the ADA can have a significant positive impact.
The legal consequences for non-compliant banks
The ADA is a federal law. Banks that do not comply with it discriminate against the disability community and present its members with barriers they should not have to face. When found to be in violation of the ADA, banks can face serious legal action, including receiving ADA compliance demand letters and potentially facing lawsuits. The latter can be incurred for accessibility issues found within banks' physical domains, along with their websites and apps.
It's important to note that the finance industry was one of the first to be impacted by web accessibility compliance demands.
In 2000, a case involving Bank of America resulted in a settlement where the bank agreed to improve its website's user experience to accommodate people who are blind, and to install talking ATMs, as well. Other banks impacted by cases regarding accessibility include Fleet Bank, Washington Mutual, Sovereign Bank, First Union, Bank One, and HSBC.
ADA compliance for banks: a deep dive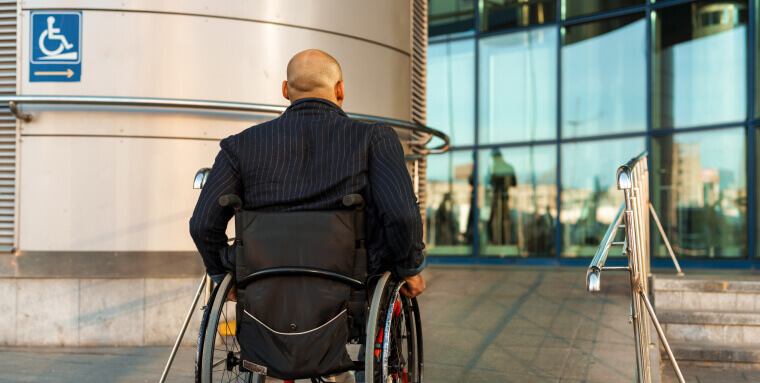 Under the ADA, a bank's responsibility toward the disability community is twofold:
Making proper accommodations for employees with disabilities
Ensuring equal access to bank services for customers with disabilities
The second area of responsibility applies to banks' physical and online domains, such as their websites and apps. The latter need to be adjusted so that they can be accessed by people with disabilities. We'll tackle this issue in a separate section, which you can skip to by clicking here.
To fulfill their obligations under the ADA, banks will have to:
We will expand on these in separate sections. You can click on a specific action item to skip right to it.
Provide equal rights and support for job candidates and employees with disabilities
People with disabilities should be given equal employment opportunities. This includes equal access to the employment process and equal consideration for all open positions. During the hiring process, banks should provide reasonable accommodations for candidates with disabilities. Examples of such accommodations include adjusting application procedures or providing a sign language interpreter if a candidate has a hearing impairment.
During the interviewing process, interviewers should be aware that it is illegal to ask applicants about disabilities before extending a conditional job offer, according to the Equal Employment Opportunity Commission.
Reasonable accommodations must also be provided to current employees with disabilities.
A reasonable accommodation is any change or adjustment to a work environment that allows an employee to perform the essential functions of their job. These include, but are not limited to:
Modified work schedules
Adjusting or modifying examinations, training materials, or policies
Restructuring jobs
Providing assistive equipment, such as screen readers, standing desks, spell checkers, and adaptive workstations
Communicate to employees and customers in an accessible way
For people who have vision loss, hearing loss, or speech disabilities, banks can communicate information in an accessible way by:
Conveying information that is available in alternative formats, such as large print or braille
Providing a qualified sign language interpreter
Offering multiple methods of communication
Ensure bank branches are accessible
Banks should ensure that their physical branches are accessible to people with disabilities. Banks can accomplish this by providing ramps, elevators, accessible bathrooms and parking spaces, and other accessibility features. Additionally, banks should ensure that customer service areas are within reach and can be properly approached by people with mobility impairments.
Ensure call centers accommodate people with disabilities
Banks should ensure that their contact centers are accessible for employees and clients with disabilities. They can accomplish this by providing their staff with an accessible environment, training them to lead with empathy, and by offering clients multiple channels of communication. This entails, among other measures, ensuring that clients can easily speak with a human being without having to engage with prolonged interactive voice responses.
Provide accessible ATMs
Banks should ensure that their ATM machines are accessible to people with disabilities.
An accessible ATM will incorporate the following elements:
A large-print, high-contrast keypad and screen text
A braille-numbered keypad
A headphone port for personal audio and volume control
Adequate height and space to allow proper approach and use for people with wheelchairs
A ramp wide enough to allow for wheelchair access
An ATM cabin door sensor for automatic opening
ADA compliance for banks' websites: a breakdown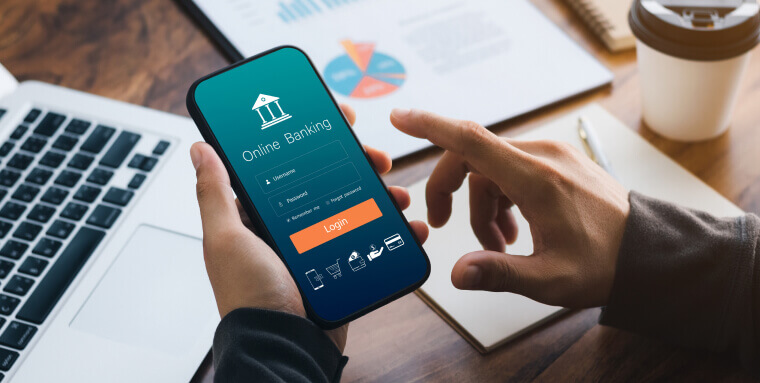 Under ADA Title III, banks must make their websites and apps accessible to customers with disabilities. To that end, banks' websites need to meet certain web accessibility standards.
While the ADA doesn't include specific instructions pertaining to web accessibility, many U.S courts have referenced the Web Content Accessibility Guidelines (WCAG) 2.0 as the standard websites should adhere to in cases involving web accessibility violations. Developed by the World Wide Web Consortium (W3C), WCAG is considered by many to be the most influential set of standards shaping global web accessibility policy.
Throughout the years, there have been a number of WCAG iterations:
WCAG 2.0 was released in 2008, while WCAG 2.1, the most up-to-date version of these guidelines, was released in 2018. The first draft of the next version of these guidelines, WCAG 2.2, was initially released in February of 2020, and is scheduled to be officially published by the end of August 2023.
Both WCAG 2.0 and 2.1 have three levels websites can conform to:
Level A - the minimum level of conformance
Level AA - the conformance level referenced in most accessibility regulations around the world
Level AAA - the optimal and most difficult level of conformance to achieve
In cases in which website owners have been sued for having non-accessible websites under the ADA, U.S. courts have required their websites to be adjusted so that they conform to WCAG 2.0 Level AA. Currently, however, if a bank's website conforms to the most up-to-date version of these guidelines, WCAG 2.1 at Level AA, it is unlikely to face legal recourse.
Click here to access our comprehensive ADA website compliance checklist and see whether your website conforms to WCAG 2.1 Level AA.
How to conform to WCAG and achieve ADA website compliance
Conforming to WCAG 2.1 Level AA entails configuring a number of website elements so that they are accessible to people with disabilities. To that end, bank website administrators should address the following list of action items. It is important to note that this is only a partial list, and that fully conforming to WCAG 2.1 Level AA requires additional steps:

Add text alternatives for images
Alternative text, or alt text, is the HTML code that describes the appearance and/or function of an image on a web page. When alt text is added to an image, screen readers will read them aloud, allowing those who rely on them to understand an image's meaning and purpose. It's important to note that alt text should be added only to meaningful images (i.e., images that provide important, critical information) and not to those that appear purely for decorative purposes.

Add captions to videos
Banks display videos to convey information, whether it be a tutorial on how to use a feature of the bank's website or to share the latest news about interest rates. All videos should contain captions and/or transcripts for website visitors who are hard of hearing.

Ensure online documents are accessible

Banks often feature PDF files, along with other forms of online documents, within their websites. The latter can contain account statements and summations of monthly transactions, for example. These documents must be made accessible to people with disabilities.
The process of adjusting online documents so that they are ADA-compliant is called document remediation. This process entails adjusting specific elements within an online document so that those relying on screen readers can properly access and understand the information appearing within them. Additional remediation steps include adding alt text to meaningful images appearing within the document, ensuring proper color contrasts between text and its background, and selecting legible and highly-readable fonts.
When dealing with large, complex online document remediation projects, many banks rely on expert service providers, such as accessServices. With an intimate knowledge of the sections of WCAG applicable to online documents, these experts are better equipped at managing these tasks in a more financially-efficient and timely manner.
Click here to learn how accessServices can help you streamline your document remediation efforts.
It's worth noting that online documents used and featured by banks sometimes require an e-signature (electronic signature). Accommodations should be made for people with disabilities to sign these documents. For example, banks can offer alternative signage methods, such as a signature stamp or voice recognition software.

Try and mitigate time limitations on web pages
Banks often limit the amount of time a website visitor spends on a web page for security reasons. When engaging with web pages that have time limits, website visitors need to be able to turn off, or at least extend the time limit, and should be properly notified when the time limit is about to be met.

Properly label forms
Forms are pervasive within bank websites. Website and app visitors are often prompted to fill them out and submit them to prove their identity and to perform certain actions, such as making direct deposits, applying for a loan, or updating personal information. It is vital that banks provide forms with properly constructed and clear labels. This will allow screen readers to identify relationships between each label and its respective form field, and enable screen reader users to understand and successfully complete a form.

Ensure website navigation is accessible
Customers with disabilities like weak muscles or injured limbs may use an alternative to the classic computer mouse. Banks should ensure that website visitors can browse their websites by keyboard, sight-assisted navigation, and other alternatives. Bank websites should also use clear and concise language for all instructions, and group related content so that a website visitor can easily navigate the website.

Ensure chat and chatbots are accessible
Customers with disabilities may find it helpful to speak with chatbots and use online chat features, as they can eliminate the need to engage in phone conversations to complete banking transactions. Chatbots and chat features often leverage both visual and auditory cues for user notifications. These include typing indicators and icons on chat bubbles. Like other elements within a bank's website, chatbots will need to be configured so that they are compatible with screen readers.

Offer more than one option for multi-factor authentication
Many banks require multi-factor authentication to access an account via desktop or app.
When multi-factor authentication is enacted, those attempting to enter their account may have to perform extra verification steps, in the form of providing additional information besides their username and password. An example of such information includes a code sent via text message to a person's mobile phone. The code will then need to be submitted within a designated form field, after which a user will be granted access to their online account.
Additionally, some banks leverage biometric authentication, in the form of requiring fingerprint scanning, for example.
These measures can be used, under WCAG. However, it is best to incorporate more than one multi-factor authentication method.
This will allow people with certain disabilities who cannot provide authentication using ‌one method to provide it through alternative means. For example, some people who cannot provide biometric authentication should be able to access their account by submitting a code sent to their email address, or one that appears within an authentication app (e.g., Google Authenticator)
How to check if a bank website is ADA-compliant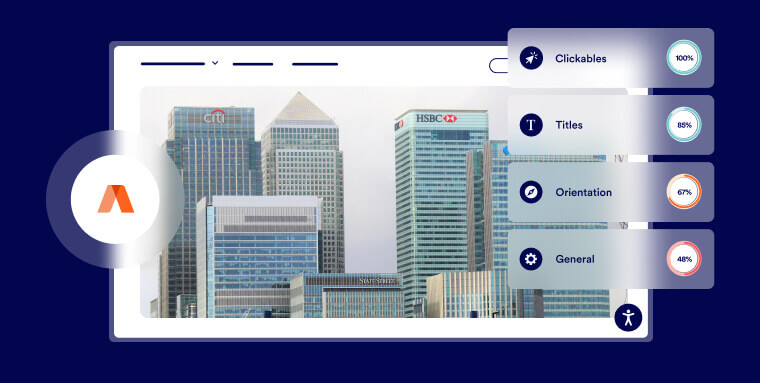 You can test whether your bank website is ADA-compliant using automated testing tools, such as accessScan, and by relying on expert service providers, like accessServices.
To use accessScan, you will need to submit your website's URL, after which the tool will run a quick, automated audit of your web page and check whether it conforms to WCAG 2.1 Level AA. After the audit is complete, you will be assigned a score (compliant, semi-compliant, or non-compliant) and will be given a more detailed report highlighting specific website elements that may require further attention.
Click here to use accessScan and find out if your bank website is ADA-compliant.
accessServices can also be relied on to manually audit and remediate your website. Many banks rely on accessServices to thoroughly inspect their websites and make the necessary adjustments to ensure they fully comply with the ADA.
It's important to note that both approaches complement each other. Many banks and financial institutions rely on automated tools and other ADA website compliance software for an initial audit of their website and then turn to expert service providers to help examine and remediate compliance issues.
Key takeaways
Under the ADA, banks must ensure that people with disabilities are given equal employment rights and opportunities. They must also ensure that everyone, regardless of ability, can fully-access their physical domains, like their branches and ATMs, and their online domains, such as their websites. While imperative from a legal perspective, achieving ADA compliance will see banks expanding their client base and providing the disability community with the equitable employee and customer experience it rightfully deserves.