The information presented within this guide is aimed at website owners seeking to learn the ropes of web accessibility. Technical elements are described in layman's terms, and, as a rule, all topics pertaining to the legalities of web accessibility are presented in as simplified a manner as possible. This guide has no legal bearing, and cannot be relied on in the case of litigation.
According to the National Association of Realtors, 96% of home buyers rely on real estate websites and apps in their search process.
Despite their immense popularity, however, real estate websites and apps are either fully or partially inaccessible to a group that makes up 26% of the adult American population:
The disability community.
For a real estate website and app to be accessible to people with disabilities, it needs to comply with the Americans with Disabilities Act (ADA). To that end, it must follow web accessibility guidelines referred to by many U.S. courts, which we will outline in this guide.
In this blog, we'll explore the importance of ADA compliance for real estate websites.
We'll also discuss the different tools you can use to ensure your website and app are fully compliant with the ADA in order to provide people with disabilities with an optimal user experience.
What is the ADA?
The Americans with Disabilities Act (ADA) is a federal law that safeguards the rights of people with disabilities. This legislation applies not only to physical spaces like hospitals, restaurants, and stores, but also extends to the digital realm, including websites. The purpose of the ADA is to ensure that the disability community has equal access and opportunities to good, services, and employment.
What is ADA compliance for websites?
Under Title III of the ADA, businesses considered "public accommodations," such as banks, stores, colleges, hotels, and many small businesses, must be accessible to people with disabilities. Many U.S. courts have applied this law to these businesses' websites as well. Furthermore, the Department of Justice (DOJ), in an official letter, has clarified that ADA compliance includes web accessibility.
It is important to note that almost all places of business provide services and accommodations to the public. Therefore, maintaining an ADA-compliant website is relevant to almost all businesses, including real estate businesses.
ADA website compliance and WCAG
Despite explicitly stating that websites fall under the ADA, the DOJ has yet to adopt any official legal standard that website owners should adhere to in order to comply with the law. However, the DOJ has frequently referenced the Web Content Accessibility Guidelines (WCAG) 2.0. Developed by the World Wide Web Consortium (W3C), WCAG is generally viewed as the most important set of standards impacting global web accessibility policy.
WCAG presents three levels of conformance: Level A (the most basic level of conformance), Level AA (the level most websites should strive to conform to), and Level AAA (the optimal level of conformance).
A substantial number of U.S. court rulings set WCAG 2.0 Level AA as the goal for website accessibility. However, the most up-to-date iteration of these standards, WCAG 2.1, is considered the best measure of web accessibility when it comes to federal law.
If your real estate website conforms to WCAG 2.1 Level AA, it will likely not face legal action for lack of accessibility.
Elements that will need to be addressed for your real estate website to be considered ADA-compliant (and in conformance with WCAG 2.1 Level AA) include, but aren't limited to:
Ensuring compatibility with screen reader technology
Ensuring your website can be operated and engaged ‌with via keyboard
Ensuring your website has sufficient color contrast between text and background
Providing captions for videos
We will dive deeper into these elements and requirements later in the blog.
Click here to access a complete checklist of elements you will need to address to ensure your real estate website conforms to WCAG 2.1.
Critical elements of an ADA-compliant real estate website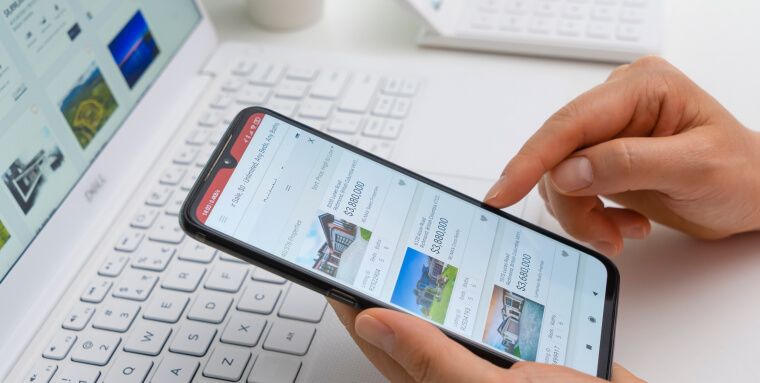 Real estate websites rely heavily on visuals like image carousels, maps, 3D tours, and videos. These will need to be addressed and adjusted to become accessible to people with disabilities.
Let's explore some key elements you will need to address within your real estate website:
Compatibility with assistive technologies
Your real estate website needs to be compatible with assistive technologies, like screen readers. To achieve this, code level adjustments will need to be made to your website. To that end, you might consider using compliance tools, such as accessWidget.
Click here to learn how accessWidget ensures your website is compatible with screen readers.
Text alternatives for images and dynamic content
Alt text should be added to all meaningful images on a website. Meaningful images are those that convey pertinent information, and not the kind added for decorative purposes only. Including alt text to images of properties allows screen reader users to understand the true scope of a property's offering.

Can 3D and virtual tours be made accessible?
Many real estate businesses leverage 3D and virtual tour solutions by embedding them within their website. Matterport, for example, allows real estate shoppers to see a digital replica of a physical space. Website visitors can navigate through the interior of a property, with Matterport displaying what you would see if you were physically there.
If you incorporate such elements within your real estate website, you will need to provide a textual alternative to them. You can also supplement digital and 3D tours with descriptive text about the property, including information on its layout, to help people who rely on screen readers understand the information being conveyed.
Along with these tools, real estate websites often feature more standard elements, such as maps for specific property listings. These too should be tested with screen readers (like JAWS and NVDA) to ensure they are accessible.
Video captioning
It's critical to provide audio or text descriptions to property tours that do not have sound, or add captions to a video that does have sound. This way, website visitors who are blind and/or deaf can understand a video. We recommend you read our guide on ADA video compliance for a more in-depth breakdown of this topic.
Accessible navigation
All functionality within your website, including links, buttons, and forms, should be configured so that they can be accessed and operated using the keyboard alone. Website visitors shouldn't have to be required to use a mouse or other pointing devices while engaging with your website. Ensuring your navigation is accessible also entails providing clear and consistent headings, labels, and instructions that will help website visitors who rely on screen readers properly navigate your website.
Your website should also incorporate descriptive and meaningful labels for links and buttons. Related content should be grouped together to make it easier for website visitors relying on screen readers to find exactly what they're looking for.
To that end, it would benefit website visitors with disabilities to use breadcrumbs. Typically appearing near the top of a web page, breadcrumbs help website visitors understand how content has been structured and how to navigate back to previous web pages. People who use screen readers benefit from breadcrumbs as they provide a clear and concise way to navigate a website's hierarchical structure, and, if they feel lost or disoriented, they can rely on breadcrumbs to retrace their steps.
Sufficient color contrast
For people with visual impairments to access your website, it will have to feature sufficient color contrast between text and its background. In more technical terms, the contrast ratio between text (or images of text) and its background should be at least 4.5:1.
We recommend you read our guides on ADA-compliant colors and ADA-compliant fonts for further information.
Form labels
Forms are pervasive on real estate websites, as potential buyers use them to schedule in-person tours. With that said, form labels and instructions must be comprehensible for people with cognitive or vision impairments. Clear labels on website forms ensure that screen readers can accurately announce each form field's purpose. This allows people who rely on them to fill out an online form.
Online document accessibility
You will need to ensure that all online documents appearing on your website are accessible to people with disabilities. This applies to PDFs as well as Microsoft Office files (e.g., PowerPoint presentations). An accessible online document is one that is compatible with screen reader technology. Fixing an online document so that it is accessible is called document remediation.
To test whether an existing online document is accessible, you can use built-in testing features available within Adobe Acrobat and Microsoft Office applications. You can also manually test your online documents and ensure they conform to the WCAG sections that apply to online documents.
Some companies and organizations turn to expert services to help them when they have high quantities of online documents in need of remediation. Service providers, such as accessServices, are well-versed in the sections of WCAG that apply to online documents, and are better-equipped to deal with more complex, lengthy remediation projects.
Click here to learn how accessServices can help you streamline your online document remediation efforts.
Important note: This is only a partial list of the elements you will need to address to ensure your real estate website achieves ADA compliance. You can click here for a more comprehensive ADA website compliance checklist.
Why ADA compliance is essential for real estate websites
In 2021, 97% of people bought their homes after window-shopping for them online.
It is clear that the internet has become an essential tool for home buyers. From an ethical standpoint, everyone should have the same opportunity to browse homes and access information online. Additionally, ensuring that your website is ADA-compliant will expand your potential customer base significantly.
Finally, ensuring that your real estate website is accessible to people with disabilities is critical from a legal perspective, as well. When your real estate website is inaccessible, you discriminate against the disability community and can face legal action. We will expand on this later in the blog.
Can you be sued if your real estate website is not ADA-compliant?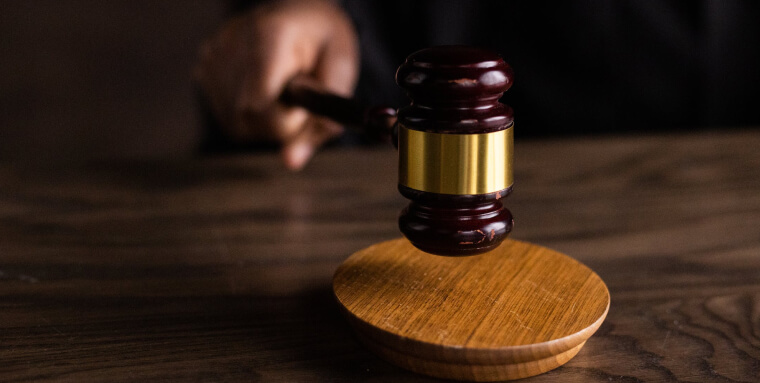 ADA compliance is imperative for all businesses, including real estate agents and companies. Not complying with the law presents the disability community with digital barriers and can result in legal action, such as receiving an ADA website compliance demand letter and potentially facing an ADA website compliance lawsuit. In recent years, there has been a drastic increase in website accessibility lawsuits. These lawsuits can be costly, time-consuming, and can wreak havoc on your company's reputation.
How can you avoid an ADA real estate website compliance lawsuit?
Avoiding an ADA real estate website compliance lawsuit involves two essential steps.
First, perform an ADA website compliance audit of your website to assess its current compliance level. To that end, you can use automated testing tools, such as accessScan. A free ADA website compliance testing tool, accessScan will run a quick, automated audit of your website, checking its level of conformance with WCAG 2.1 Level AA.
You'll need to submit your website URL, and, after a few seconds, accessScan will provide your website with a score: compliant, semi-compliant, or non-compliant. You'll also be presented with a more detailed report (that you can download as a PDF). This report ‌will highlight gaps in compliance (if any exist) and offer suggestions on how to remediate them.
Click here to use accessScan and find out if your real estate website is ADA-compliant.
You can also manually review your website and examine whether it conforms to WCAG. Many website owners choose to rely on expert service providers, such as accessServices, to thoroughly audit and remediate their websites for them.
Once you have a clear picture regarding your website's level of compliance, you'll need to remediate all identified ADA compliance issues. You may need to make changes to your website's layout, design, and functionality to make it accessible to visitors with disabilities. To that end, you may want to consider using a compliance solution, like accessWidget.
accessWidget integrates with your website and helps remediate its code so that it is optimized for screen readers and keyboard navigation. accessWidget also provides website visitors with an interface through which they can change design and UI elements to fit their abilities. This includes adjusting color contrasts and font sizes, disabling animations, and configuring a web page so that it showcases only text.
Click here to read more about accessWidget and how it can help your real estate website achieve ADA compliance.
Key takeaways
ADA compliance is more than a legal requirement – it is a moral responsibility. It allows people with disabilities to interact with your real estate website just like anyone else. By making ADA compliance a priority, you contribute to a more inclusive home-buying experience for everyone. Make sure to test your website for accessibility issues and remediate the elements that are found to be inaccessible.