The information presented within this guide is aimed at website owners seeking to learn the ropes of web accessibility. Technical elements are described in layman's terms, and, as a rule, all topics pertaining to the legalities of web accessibility are presented in as simplified a manner as possible. This guide has no legal bearing, and cannot be relied on in the case of litigation.
By 2025, Ontario, Canada hopes to become an inclusive and accessible province where everyone, regardless of ability, can fully participate in all aspects of life.
A key step toward making this happen has been the introduction of the Accessibility for Ontarians with Disabilities Act (AODA). The AODA makes Ontario one of the first jurisdictions in the world to enact specific legislation with clear goals, timeframes, and standards for accessibility. These include specifications for web accessibility, as well.
If you are an Ontario-registered business or organization, your website must comply with the AODA. To help you with that, we've created a checklist of action items you will need to address so that your website achieves AODA compliance.
It is important to note that while the checklist is a useful resource, it is only a quick summary of the necessary requirements and not a complete list.
What is the AODA?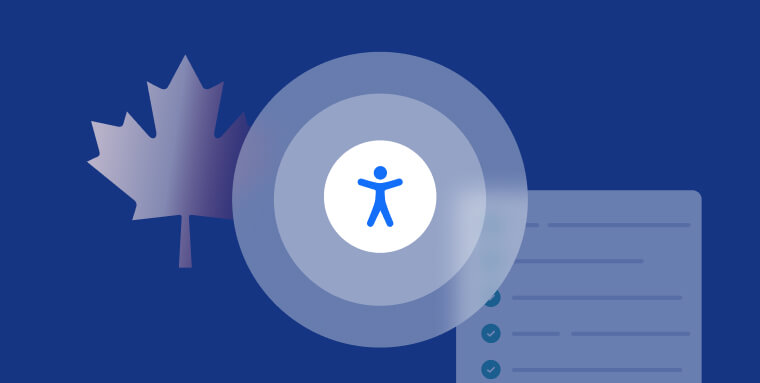 The Accessibility for Ontarians with Disabilities Act (AODA) applies to many areas of daily life, such as transportation and the design of public spaces. A follow-up to the Ontarians with Disabilities Act of 2001, the AODA was officially introduced in 2005. Applying to both publicly and privately owned businesses in Ontario, the AODA expands and improves upon existing accessibility policies, setting clear rules and deadlines by which businesses must become accessible.
Along with applying accessibility standards to customer service, employment, transportation, and built environments (e.g., accessibility in public spaces), the AODA sets clear rules regarding website accessibility.
Under the AODA, Ontario-registered businesses with more than fifty employees must ensure their websites are accessible to people with disabilities.
Who must comply with the AODA?

The AODA applies to all organizations in Ontario, regardless of size and sector, including private-sector businesses, non-profit organizations, and government bodies.
For private businesses and nonprofits, some of the AODA requirements will vary depending on your business size. Privately-owned Ontario businesses with a workforce consisting of at least twenty employees need to file an accessibility compliance report every three years. Conversely, businesses with fewer than twenty employees are exempt from filing such a report.
AODA compliance for websites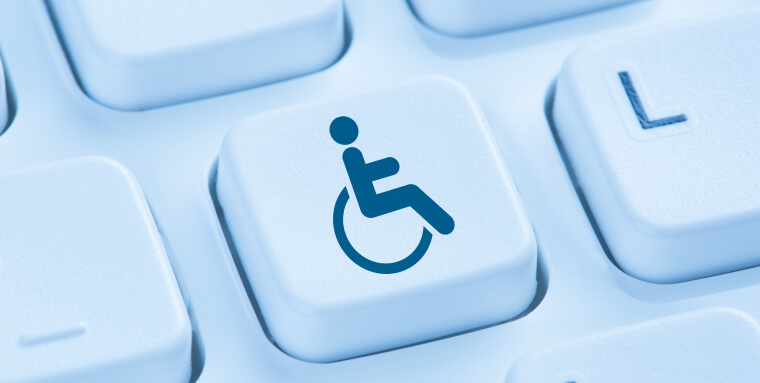 Under the AODA, websites and web content (including online documents) must be made accessible to people with disabilities. To achieve compliance, Ontario-based websites will need to conform with the Web Content Accessibility Guidelines (WCAG). Published by the World Wide Web Consortium (W3C), WCAG is a set of web accessibility standards considered by many to be the most influential protocols impacting international web accessibility policy.
There are three levels of WCAG conformance:
Level A (i.e., the most basic form of conformance), Level AA (i.e., a more advanced form of conformance), and Level AAA (i.e., the highest level of conformance).
An earlier iteration of the AODA required websites to conform to WCAG 2.0 Level A by January 1, 2014.
Today, websites need to conform to WCAG 2.0 Level AA in order to achieve AODA compliance. Following the checklist below will help your website reach this level of conformance.
In their efforts to ensure their websites are AODA-compliant, many organizations also use compliance tools like accessWidget.
accessWidget leverages two applications to remediate websites en route to achieving AODA compliance:
In the foreground, an accessibility interface allows website visitors to make modifications based on their individual needs, including adjusting font size and color contrast, stopping animations (including GIFs), and arranging for a web page to only feature text
In the background, an AI-powered process makes more complex adjustments for screen reader and keyboard navigation compatibility
Click here to read more about accessWidget and how it can help you become AODA-compliant.
Does every website in Ontario need to be AODA-compliant?
As of January 1st 2021, the AODA requires your website to be accessible if you are:
A public sector organization
A business or non-profit organization with fifty or more employees
Important note: Websites operated by the Government of Ontario and the Legislative Assembly must ensure that their internal (intranet) websites conform to WCAG 2.0 Level AA, as well.
How can you check if your website is AODA-compliant?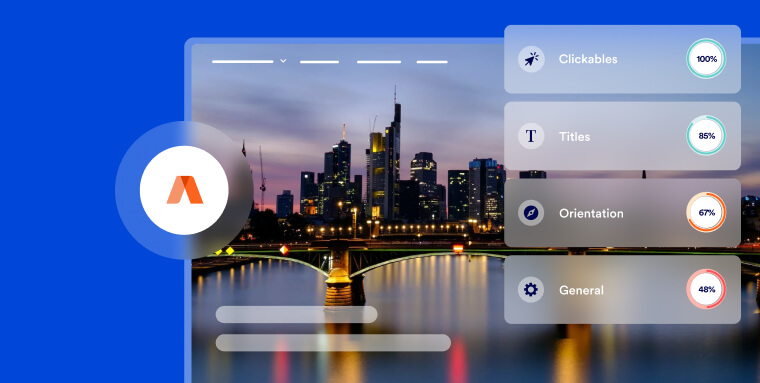 You can test whether your website is AODA-compliant using automated testing tools, such as accessScan, and by relying on expert service providers, like accessServices.
To use accessScan, you will need to submit your website's URL, after which the tool will run a quick, automated audit of it and examine its level of conformance to WCAG 2.1 Level AA. Your website will then be given a score (compliant, semi-compliant, or non-compliant), along with a more detailed breakdown of various website elements' accessibility status. If compliance gaps exist, they will be highlighted so that you can get to work on remediating them.
Click here to use accessScan and find out if your website is AODA-compliant.
You can also rely on expert service providers, like accessServices, to manually audit and remediate your website. Ontario-based organizations that have complex websites often rely on accessServices to thoroughly inspect them and make the necessary adjustments to ensure they are AODA-compliant.
If you choose to, you can manually check your website for AODA compliance yourself by reviewing your website's level of conformance to WCAG 2.0 Level AA. To that end, you can rely on the checklist appearing below.
AODA compliance for online documents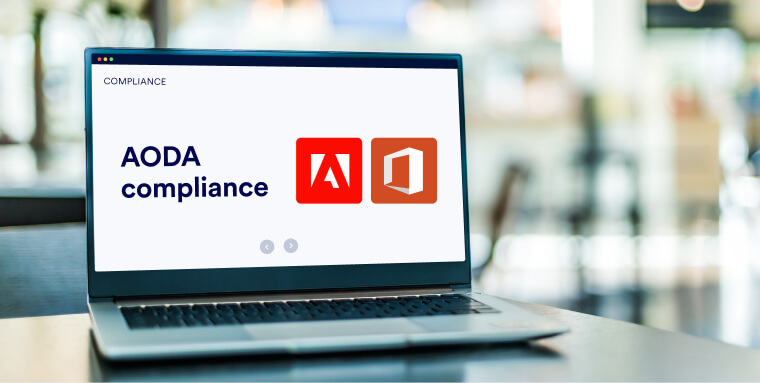 The AODA applies not just to websites, but to online documents such as PDFs and Microsoft Office files, as well.
You can rely on Adobe Acrobat (along with other PDF generators) and Microsoft Office apps (e.g., Word) to create AODA-compliant documents. You will also need to remediate existing online documents so that they can be accessed by people with disabilities. For the most part, document remediation is a manual endeavor, and will require following the sections of WCAG that apply to online documents. You can read about that process here.
You can remediate your online documents yourself. However, this would require you to become very well-versed in the sections of WCAG that apply to online documents, which is a considerable task. Alternatively, you can turn to expert service providers, such as accessServices. Many business owners prefer to employ the services of such experts, especially when they have a significant number of documents that require remediation. Compliance experts are intimately familiar with the sections of WCAG relevant to online documents and are better equipped at managing large-scale document remediation projects.
Click here to learn how accessServices can streamline your online document remediation efforts.
The consequences of not complying with the AODA
The AODA has clear rules, deadlines, and penalties that spell out the consequences for non-compliance. There are three groups of AODA infractions: minor, moderate, and major. Within these groups, there is room for interpretation during legal proceedings. An organization's compliance history also influences the severity of a violation.
In addition to these financial and legal risks, not complying with the AODA can result in significant damage to your business' reputation and to its bottom line. 62% of Canadians have stated that they prefer to support accessible businesses. By remaining inaccessible to people with disabilities, you are at risk of alienating much of your customer base.
AODA compliance checklist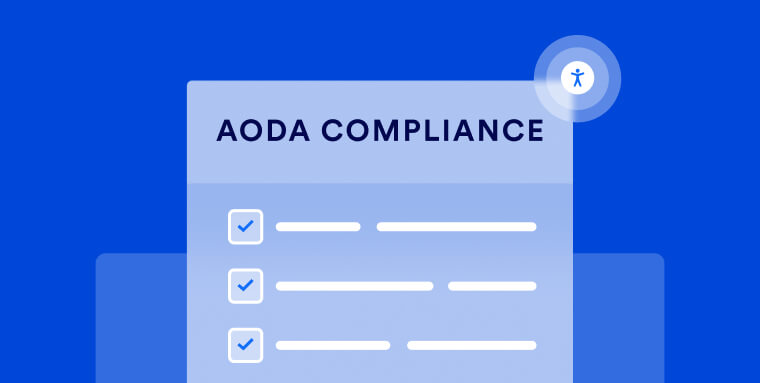 To ensure that your website is AODA-compliant and in conformance with WCAG 2.0 Level AA, you will need to address the action items in the checklist below.
It is worth noting that while this is a useful resource, it is only a quick summary of the necessary requirements and not a complete list. Therefore, it's always a good idea to cross-check compliance checklists with the official requirements of the AODA.
That said, here's what you will need to do to conform to WCAG 2.0 Level AA and comply with the AODA:
Provide text alternatives for non-text content
Some website visitors cannot access non-text-based content, such as audio files, images, or videos. When you provide text alternatives, you allow the content to be conveyed by assistive technologies, such as screen readers and braille displays

Provide alternatives for time-based media
Alternative formats, such as captions, transcripts, and/or audio descriptions should be provided for time-based media. Applicable content types include audio-only, video-only and synchronized audio-video

Provide captions for videos with audio
Video content with audio isn't accessible to all website visitors. Make sure that videos with audio have captions that are synchronized and accurate, and clearly identify speakers
Ensure all website functionality is operable via keyboard
Some people with disabilities cannot use a mouse to navigate content or operate interactive elements. Instead, they rely on their keyboard. It is therefore very important to ensure that all website functionality is operable via keyboard
Ensure your website doesn't require complex pointer gestures
Keep in mind that some people use special tools like head pointers, eye-gaze systems, and speech-controlled mouse emulators to navigate your website. To ensure these people can properly access your website, avoid making them move their pointer in complicated ways, like drawing a specific shape, or using multiple fingers to zoom in or out. Instead, stick to simple requirements like pressing, tapping, or dragging along a straight line
When visitors are met with time limitations within your website, ensure the time limit can be adjusted
Some people may require more time to complete tasks on your website, such as accessing or reading content, or filling out forms. Minimize the amount of content that requires timed interactions. Additionally, ensure there are no time-outs without a website visitor's acknowledgment. With certain exceptions (e.g., submitting a bid during an online auction), people should be able to request more time and deactivate or adjust any time-out settings without loss of data
Minimize distractions and allow website visitors to turn off or postpone interruptions
Non-static website content, such as animations or videos, can be a severe distraction for some people as it prevents them from focusing on a web page. Offer a mechanism to pause, stop, or hide any moving, blinking, scrolling, or auto-updating elements. Examples of such elements include carousels, and scrolling news updates or stock tickers. Website visitors should be able to postpone or suppress interruptions, updates, and alerts, except in an emergency

Ensure your website does not feature content that can induce seizures
Content such as fast-strobing lights can induce seizures. Warnings about flashing content are often missed, so these are not sufficient. Instead, avoid designing content in a way that is known to cause seizures. WCAG states that web pages should not contain anything that flashes more than three times in one second
Design forms so that website visitors are less likely to commit errors when engaging with them. If errors are committed, offer ways to correct them
Design forms to prevent mistakes by clearly indicating required fields and not requiring more information than necessary. If an input error is detected, the error should be clearly identified and described to the user in text. You will need to ensure that it will be announced by screen readers (e.g., NVDA and JAWS), as well
Ensure that elements' appearance and functionality are predictable
Predictable appearance and functionality help website visitors identify components and understand how they work. Make sure that frequently-used components, such as icons and links, appear and behave consistently
Ensure your forms, tables, and charts are labeled properly
Labels help all website visitors understand what information is contained on a web page, how to navigate it, and what input is being requested. Elements such as navigation bars, forms, tables, charts, and search boxes should be clearly labeled
Apply the correct color contrast ratios
People with color blindness or low vision may not be able to easily read and navigate content without proper contrast. Ensure good contrast between text (or images of text) and its background, with a contrast ratio of at least 4.5:1. When using bold or large text (18pt or larger), a 3:1 ratio is sufficient. For non-text items, such as functional icons or button borders, a 3:1 ratio is required. Contrast restrictions do not apply to logos and brand names

Ensure zoom functionality
When website visitors increase text size, it shouldn't lead to a loss in functionality. Additionally, content should not overlap, get cut off, or disappear because of text enlargement
Ensure your navigation is standardized and predictable
Consistent websites are easier to navigate for all website visitors. Navigation items should appear in the same order wherever they occur on your website
Avoid using CAPTCHA
Standard CAPTCHA tests often prevent some people with disabilities from performing the requested procedure. When certain web pages require an extra layer of security, consider opting for Google's version, Google reCAPTCHA, which is compatible with many screen readers

Ensure online documents are accessible
Online documents such as PDFs and Microsoft Office files (e.g., Word documents) need to be accessible to people with disabilities


AODA compliance: an ongoing effort
The AODA is designed to evolve along with developments in accessibility policy. It's important for Ontario businesses and website owners to stay up to date with the latest requirements. With the help of the AODA checklist above, you can make sure that your website meets current regulations and is accessible to all visitors.
This checklist has no legal bearing, and cannot be relied on in the case of litigation.