Did you know that between 15-20% of your online audience are dyslexic?
Dyslexia is an extremely common language-based cluster of symptoms that affect how people spell, read, and write words. Dyslexia can make it challenging for people to enjoy their normal daily lives and reach success in professional and academic settings.
Dyslexia is the most common learning disability and likely affects many more people than is generally known. This underscores the immense opportunity that online businesses can realize by incorporating dyslexia text fonts in their web design.
We're going to look at the most popular Dyslexia fonts, where to find free Dyslexia fonts, and why using a Dyslexia typeface is a great way to increase your eCommerce's accessibility and sales performance store or website.
Why You Should Incorporate Dyslexia Fonts on Your Website
Dyslexia is considered the most common learning disability in the entire world. Even if we consider the lower range of that prevalence rate, 5-10% of the global population will equate to roughly 700 million Dyslexic individuals living in the world and many more who have not been diagnosed. That's a tremendously large demographic group. Yet, so many business decision-makers are unaware of the relationship between their design choices and the accessibility of their services to users of all ability levels.
Boost Your Website's Revenues by Using a Dyslexia Font
Suppose you're interested in using Dyslexia-friendly fonts on your website. In that case, the good news is that many of the world's most popular font choices, such as Arial, Tahoma, and Trebuchet, all meet the criteria and can be easily added to most websites without additional costs.
However, you might be interested to learn more about some very innovative new fonts for Dyslexia that have come out in recent years. Dyslexie and Open-Dyslexic were designed specifically to make reading more enjoyable for those living with Dyslexia.
Consider using one of these Dyslexia text fonts in your web design to boost sales and increase your site's accessibility:
Font Name: Dyslexie
Font Website: https://www.dyslexiefont.com/

Font Name: Open-Dyslexic
Font Website: https://opendyslexic.org

Font Name: Read Regular
Font Website: http://www.readregular.com/english/intro.html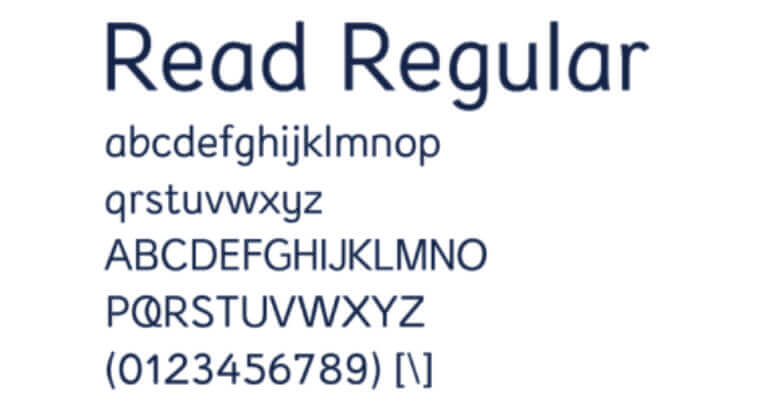 Font Name: Sylexiad
Font Website: https://www.sylexiad.com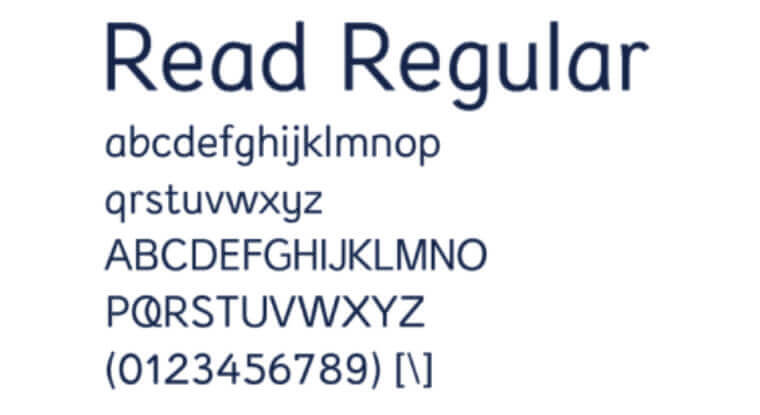 Other Dyslexia Friendly Fonts:
Here are some other more standard fonts that you're probably already used to seeing in Microsoft office or across the web:
Arial
Open Sans
Helvetica
Comic Sans
Verdana
Tahoma
Century Gothic
Trebuchet
Calibri
Designing your website for Dyslexic Readers
To design your website to be more accessible for Dyslexic readers, we recommend incorporating the following design principles:
Choose Sans-Serif Fonts - Sans-Serif fonts, such as Arial, are recommended because they're easier for Dyslexic people to interpret than Serif fonts. Though Serif fonts make it easier for many other readers to follow along with text, Dyslexia makes this much more challenging.
Choose Large Font Sizes - Your website's fonts should be 12-14 pt size at a minimum. Anything smaller is going to be very challenging for those with Dyslexia and other learning disabilities to read.
Choose Short and Concise Sentence Lengths - Limit the length of sentences on your website to 45-100 characters to make your copy more accessible to Dyslexic readers.
Prepare Your Online Business to Reach its Potential
As the #1 automated web accessibility solution for ADA and WCAG compliance, accessiBe understands a great deal about the unique business opportunities your organization can enjoy by simply making your websites more accessible to all of your visitors. The absolute best way to increase the number of customers you have is to ensure that everyone who accesses your site can experience it to its fullest, regardless of their abilities.