Jonathan was a filmmaker and an extreme unicyclist prior to suffering a spinal cord injury at age 19 when his bicycle tumbled down a cliff in northern India.
Balancing on one wheel while zooming downstairs, rails, and mountain paths turned out to be great preparation for the balance and coordination necessary for moving and living independently after becoming paralyzed below his arms. After completing his rehabilitation back home in Connecticut, beginning college, and joining a local wheelchair rugby team, Jonathan returned to India (where he was initially treated) and witnessed the vast disparity in access to the same kind of therapies he had at home.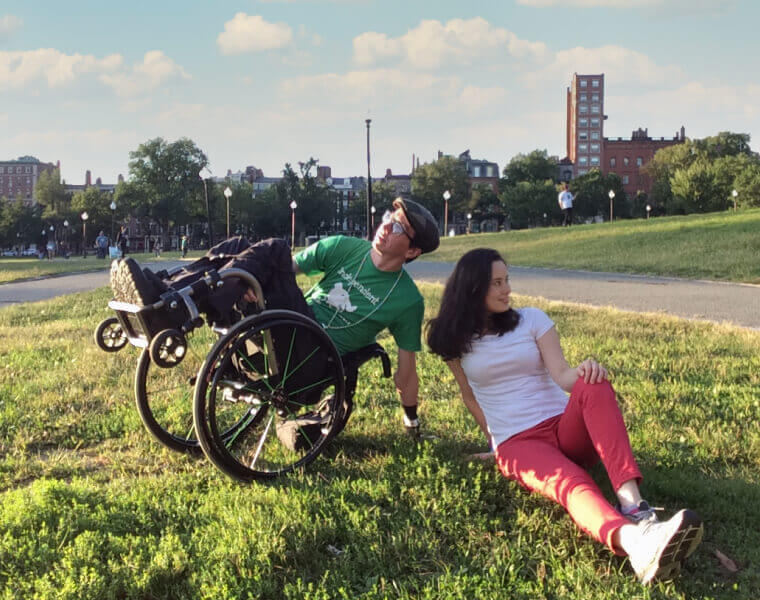 Throughout his time at Wesleyan and then Dartmouth College, Jonathan returned to India to introduce the locals to Wheelchair Rugby, film and direct a documentary promoting independent living (called More Than Walking), and co-found a transitional living and peer mentoring charity in Delhi (www.escip.org).
It was during this time that Jonathan saw the need for a more global and virtual way for people of similar disabilities to share and learn the knowledge and skills that made everyday independent living possible, regardless of where they lived. After getting married, Jonathan and his wife Jessica, a physical therapist, co-founded a 501(c)(3) non-profit called More Than Walking Incorporated to make an online independent living video course based on the experiences of the international spinal cord injury community (www.morethanwalking.com). Jonathan is the current CEO of More Than Walking and working to complete a pilot version of the course and recruit peer mentor volunteer contributors from around the world.
Jonathan has partnered with accessiBe, and is working on the accessFind initiative to realize the dream of providing the newly injured and their families, the tools needed to access the best online and local resources available for getting back to living their life…which may involve adding a few wheels.